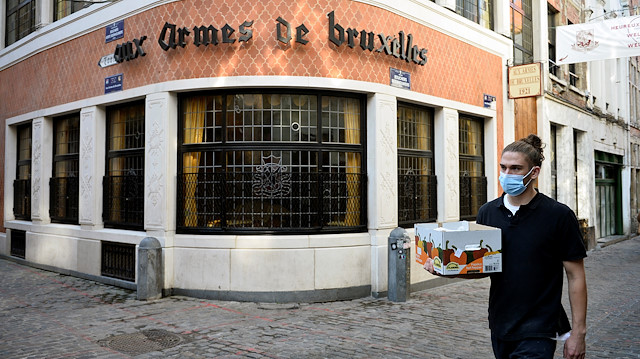 The European countries are taking new measures to stem the spread of coronavirus as the rising daily cases triggered fears of a second wave.
Belgium was hit hard by the COVID-19, according to data released by the country's health authorities on Monday.
Between Oct. 9 and 15, an average of 7,876 new infections a day were reported, an increase of 79% from the previous week.
In the country with a population of 11.4 million, the total number of cases increased to 222,253 since the beginning of the pandemic, while 10,413 people died.
Speaking to Belgian broadcaster RTL, Frank Vandenbroucke, the federal minister, said the country is facing a "tsunami of infections".
Because of the increased number of cases, COVID-19 test results came later than normal and hospitals are delaying care for non-COVID patients.
The country has taken some additional measures to contain the infections. As of Monday, restaurants, cafes and bars across Belgium will be closed for a month.
Belgium also imposed a curfew from midnight to 05:00 and everyone is required be in close contact with only one person outside the family. When possible, people will be working from home.
-Italy hits new record
The number of new coronavirus cases in Italy hit a fresh record Sunday, reaching 11,705 in the last 24 hours, as the number of patients being treated in intensive care continued to rise.
Italy also recorded 69 new deaths, bringing the tally to 36,543.
The country's prime minister, Giuseppe Conte, on Sunday unveiled further measures aimed at containing the second wave of the COVID-19 contagion and avoiding a new lockdown that would hit the economy hard.
Under the new rules, Italian mayors will have the power to close public squares and other places after 9 p.m., allowing access only to residents and business owners.
Restaurants and bars will close at midnight, but table service will only be permitted after 6 p.m. Restaurants will also allow a maximum of six people seated at any table.
Conte also said schools and universities will continue to stay open, but they will be encouraged to allow more distance learning.
He said Italy cannot afford to use the same strategy it used last spring to combat the virus's spread as it would kill the country's economic recovery, which is just showing positive signs.
-France under state of emergency
France reported 29,837 new cases on Sunday as infections hit a new daily record.
There were 90 new fatalities with France's death toll now standing at 33,392. A total of 7,198 patients remain hospitalized with 1,269 in the ICU.
France is under a state of emergency with curfews applying to Paris, Ile-de-France, Lille, Grenoble, Lyon, Aix-Marseille, Montpellier, Rouen, Saint-Etienne and Toulouse.
The curfew, which takes effect at 9 p.m. (1900GMT) and is lifted at 6 a.m. (0500GMT) each morning, will last four weeks. Exceptions will apply to medical establishments, hotels, home delivery companies and public establishments, including police and fire stations.
-UK on alert
Meanwhile, in the UK, the latest government data showed 16,982 more people tested positive for coronavirus across the country over the past 24 hours, bringing the total to 722,409.
The data also showed that 67 more people died, bringing the total deaths to 43,646.
The government announced last week a new three-tier system for coronavirus restrictions. London will now be in the middle tier, known as "High".
The restrictions mean Londoners will be banned from meeting people from other households indoors, either at home or in a pub. They will also be advised to reduce travel via public transport where possible.
-Slovenia declares 'epidemic situation'
The Slovenian government on Sunday night declared an "epidemic situation" due to the increasing novel coronavirus cases.
A written statement by the government said the epidemic emergency has been declared throughout the country for one month from Monday after the daily number of cases reached 900.
The National Protection and Rescue Plan was put into effect and additional measures to combat the epidemic will be announced gradually.
The statement also said that a partial curfew could be declared within the scope of new measures that will proceed in direct proportion to the increase in the number of cases, while the re-closure of shopping centers, gyms, cafes, and restaurants is also on the agenda.
If the cases increase, the "quarantine" plan will be put into effect, and if this plan is activated, schools would be closed and urban transportation would be stopped.