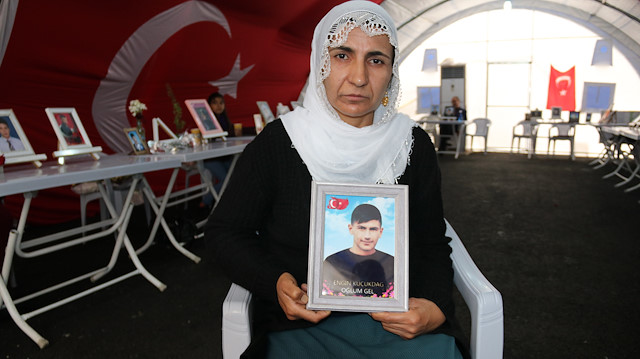 On its 205th day, hosts of families gathered for their months-long sit-in in southeastern Turkey demanding that a political party free their children from the terrorist YPG/PKK.
Dozens of mothers started the protest on Sept. 3 outside the Diyarbakir offices of the Peoples' Democratic Party (HDP), a party accused by the government of having links to the terrorist YPG/PKK, saying that their children were forcibly recruited by PKK terrorists.
Since then, the number of protesting mothers has been growing, as they demand the return of their children, who, they say, were deceived or kidnapped by the terror group.
Kamile Kucukdag, one of the mothers who joined the protests from the southern Adana province, said that she will not leave until she is reunited with her son Engin, who was kidnapped five years ago when he was only 15.
"We've been here for 205 days. I won't leave here until my son comes back even if it takes a thousand years," she said.
Salih Sadak, a father protesting for the return of his son, Mikail, said that he hadn't heard from the young man for 15 years.
"I want my son from the HDP. I won't leave until they bring my son back. The HDP deceived my son," he said.
In its more than 30-year terror campaign against Turkey, the PKK – listed as a terrorist organization by Turkey, the U.S. and EU – has been responsible for the deaths of 40,000 people, including women, children and infants. The YPG is the PKK's Syrian offshoot.
*Writing by Burak Dag in Ankara