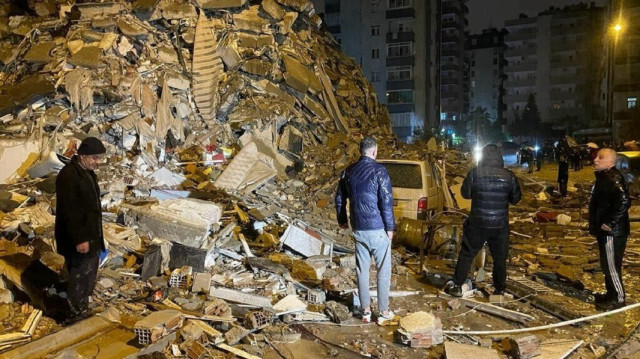 As the wave of solidarity and grief continues to resonate all over the world after last month's powerful earthquakes in southern Türkiye, the Turkish diaspora in Denmark has been on the forefront to help their compatriots in need.
One place where aid has been collected is the Tyrkisk Kulturcenter Brabrand Ulu Camii, a mosque managed and run by local Turkish community members settled in the Denmark's city of Aarhus.
The mosque administration, with the support of the Turkish diaspora and local Danish community, raised for over 1 million Danish krones (over $143,200) in two well-attended relief fundraisers.
"This natural tragedy pains every single person who heard about it. We may live miles away from the earthquake victims and survivors, but they are always in our hearts and prayers," said Davut Ataman, a representative of the mosque who looks after media affairs.
"We could not just continue our life as if nothing happened."
On the appeal of the mosque's administrators, local peopls, including those of non-Turkish background, continue to come in to give donations.
Ataman said there had been no major challenges in getting donations for the two back-to-back fundraisers as the idea had received enthusiastic support from community members.
"I was making announcements on Facebook and Instagram about the fund drive under the name 'Hand-in-hand for earthquake victims'," he said.
"Within a week, we managed to raise 1 million Danish Kroner, Besides that, 2,500 blankets were also collected."
Women in the Turkish-Danish community were especially helpful in the fundraising effort triggering a massive response to the appeal for donations, Ataman said.
Esma Ataman, head of women's affairs in the mosque administration, who has been living in Denmark for the last 38 years, said the community took action as soon as they heard of the devastating earthquakes on Feb. 6.
"We were nine people in the mosque. We quickly had a meeting to discuss what could be done and how we could best help people in Türkiye. It started small. Each Wednesday, we sold homemade breakfast food in the mosque for donations. Then we branched it out further with a grand fundraiser and social media appeals," she said.
Esma said that under the motto "One heart, one nation," the volunteers sold Turkish street food to raise money.
"We were able to reach our desired donation goal."
But, while the event was planned by mid-career professionals, it were the young Turkish-Danish student volunteers who were doing the donation drives, setting up food stalls and mobilizing the community.
"Surely, they did the hard part," Esma chuckled. "Our Turkish children may not live in Türkiye but they are deeply connected with their homeland and their people. Along with us, they also feel the pain. They also want to play their part in comforting the people in need. I can gladly say that they have the Turkish spirit."
Azra Shahin, a student who was part of the volunteering team, said that helping the community in this time of need gave her a sense of identity and empathy. She was at the forefront in setting up food stalls and helping guests at the fund raiser.
"Making a difference in the life of people through our efforts is special. Through these efforts, I just want to show the Turkish people in distress that they are not forgotten, and in our humble capacity, we'll try to make our utmost efforts," she said.
Davut Ataman believes that community leaders are planning more relief efforts in the coming days. He expects huge donations in the month of Ramadan for earthquake victims and said the mosque and community would go the extra mile to help and support the people in need.
"Our message to our people back in Türkiye is simple. We are with you, in this time of crisis."
#
Turkish-Danish community
15 gün önce