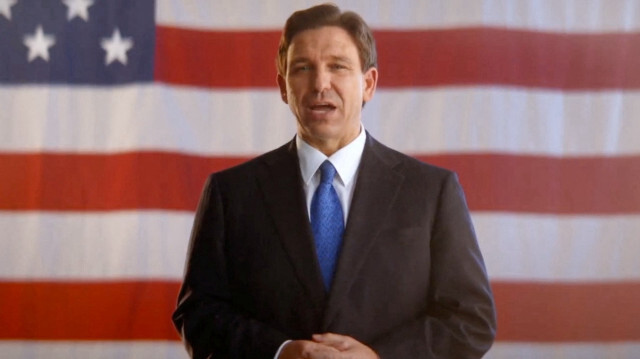 Florida Gov. Ron DeSantis
Florida Gov. Ron DeSantis formally announced Wednesday that he is running for president in 2024.
DeSantis officially entered the 2024 White House race earlier in the day, filing paperwork with federal authorities that sets him on a collision course with former President Donald Trump.
The Republican politician and outspoken cultural conservative announced his decision to run for president in a video posted by his campaign on social media.
"We showed that we can and must revitalize America. We need the courage to lead and the strength to win," said Desantis in the minute-long video.
"I'm Ron DeSantis, and I'm running for president to lead our great American comeback," he added.
DeSantis planned to discuss his presidential announcement in a unique conversation with Twitter CEO Elon Musk on Twitter Spaces at 6 p.m. EDT.
However, the audio stream crashed repeatedly, making it impossible for users to hear the high-profile announcement in real time.
When he was able to speak without technical interruption, he said: "Well, I am running for president of the United States to lead our great American comeback," echoing the words in his campaign video.
Musk noted that there were over 500,000 people listening to the conversation, which might have caused the glitches. The Spaces conversation ended 20 minutes later.
Former US president and presidential rival Donald Trump acknowledged and derisively welcomed DeSantis' presidential bid on his social media platform, Truth Social.
"I'd like to personally congratulate 'Rob' DeSanctimonious on finally announcing that he will be entering the race for President of the United States," Trump said.
"Hopefully he will get the full experience of being attacked by the Marxists, Communists, and Radical Left Lunatics of our Country, without which he will never know the kind of job he is doing."
DeSantis is thought to be Trump's strongest Republican rival, even though the governor faces challenges regarding his far-right policies.
DeSantis has firmly established himself as a conservative culture warrior, railing against the left while implementing new policies in the state that have restricted abortion rights, clamped down on LGBTQ+ instruction in state schools and expanded gun rights to allow residents to carry concealed firearms without a permit.
His policies have put him at loggerheads with Disney, Florida's largest employer, which has stood against one of DeSantis's premier pieces of legislation, dubbed by critics as his "Don't Say Gay" law. The fight led DeSantis to repeal longstanding special treatment given to Disney under state law and has prompted a series of lawsuits between them.
#
2024 presidential election
#
Florida Gov. Ron DeSantis
7 days ago