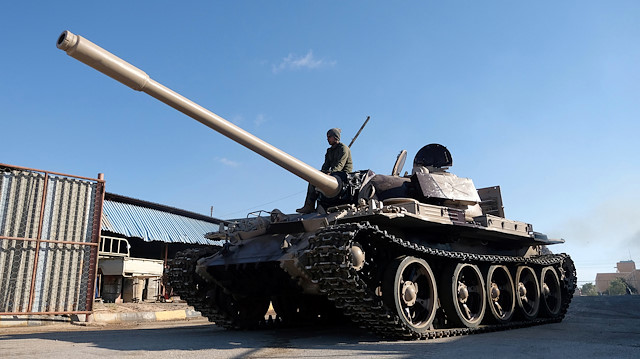 Arab League envoy to Libya Salah Eddine al-Jamali has accused foreign countries of fueling the conflict in the conflict-ridden nation.
In an interview with Anadolu Agency, al-Jamali blamed the Libyan politicians for inviting foreign interference in Libyan affairs.
"There have been daily international interferences in Libya," he said. "These countries are encouraging the war, not halting the conflict and laying down arms."
Libya has remained beset by turmoil since 2011, when a bloody NATO-backed uprising led to the ouster and death of strongman Muammar Gaddafi after four decades in power.
Since then, the country's stark political divisions have yielded two rival seats of power: one in eastern Libya and another in Tripoli.
The situation escalated this month when Khalifa Haftar, who commands forces loyal to a government based in East Libya, launched a military campaign to capture the capital Tripoli, where the UN-backed government is headquartered.
"The Arab League rejects violence and taking up arms instead of dialogue," al-Jamali said, reiterating rejection of any foreign interference in Libyan affairs.
"The league seeks to maintain Libya's unity and territorial integrity and seeks to bridge the gap in viewpoints," he said.
The Arab League envoy went on to call on Libyan rivals to "lay down arms and return to the negotiating table".
"Violence does not solve problems," he said.
-Security threat
The Arab League envoy sees the current conflict in Libya as a "disruption of Arab national security".
"Libya is a targeted nation given its strategic location and huge natural resources as oil and gas," al-Jamali said.
Asked about accusations for the United Arab Emirates (UAE), Saudi Arabia and France of backing Hafter's offensive, al-Jamali said "these accusations must be proved first".
"The classification of countries and leveling accusations don't serve the Libyan issue," he said, going on to heap the blame on Libyan politicians for escalating the conflict.
"There is a lack of trust between Libyan rivals," he said, citing that "meetings between Libyan parties are often held outside Libya".
A conference had been scheduled for Sunday as part of an international roadmap to tackle the Libyan conflict before being indefinitely postponed.
"This conference was not the last chance," al-Jamali said. "I believe that the armed conflict would push the parties to negotiations."
"We hope that the current conflict will come to a halt since it will not help reach a solution," the envoy said.