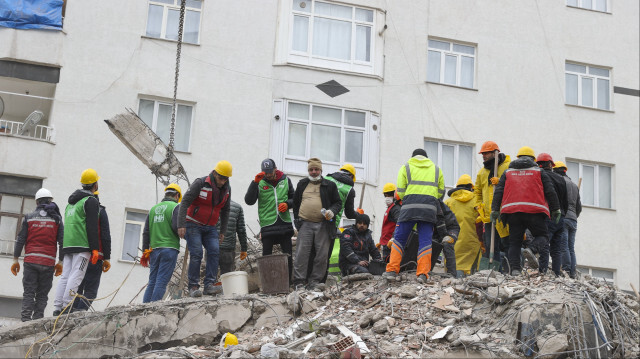 French magazine Charlie Hebdo drew criticism from Parisians with a cartoon it published mocking Türkiye after the country was hit by two deadly earthquakes on Monday.
The cartoon, posted on Twitter under the heading "cartoon of the day," shows buildings near collapse and lying in rubble, a flipped-over car, and piles of debris in the quakes' aftermath.
"Earthquake in Türkiye," is written above the cartoon, and the words "No need to even send tanks" appear at the bottom.
People voiced frustration and anger over Charlie Hebdo, billed as a satirical weekly, publishing the cartoon even as frantic search and rescue efforts continue for survivors of the deadly disaster.
Interviewed by Anadolu, Parisians commented on the cartoon. All names were changed to protect their identities.
Thomas, 24, said Charlie Hebdo was trying to be funny but this is a "complicated" thing to do when it comes to a tragedy like deadly earthquakes.
"I don't want to laugh at all," he said. "I find it vapid to laugh at."
"After all, I don't think it's their role in general," he added. "Instead it should be to give information. Humor, there are professionals for that."
Benoit, another young man, told Anadolu that the situation in those countries is very serious.
"We need to provide them support, immensely. When it comes to the cartoons, people should support them and draw cartoons that show our support, together," he underlined.
Noting the ongoing war in Ukraine, and recent news about some countries sending tanks there, he criticized the cartoon somehow trying to link "sending tanks" to the deadly quakes.
"I think it serves nothing to add tanks to it," he continued.
Simone expressed sorrow for the victims, and criticized the magazine's "extremely dark humor."
Amandine said the cartoon seemed like a poor attempt to attract attention.
"This isn't the first time that (Charlie Hebdo) journalists try to get people to talk about them," she added. "I don't see this cartoon in a good way, it's absurd to still see this kind of image today."
Charlie Hebdo magazine is also notorious for its cartoons insulting the Muslim Prophet Muhammad.
Over 7,100 people were killed and some 41,000 others injured in 10 provinces of Türkiye after two strong earthquakes jolted the southern part of the country, according to the latest official figures.
Early Monday morning, a 7.7 magnitude tremor struck Kahramanmaras and surrounding provinces, followed by a 7.6 quake about nine hours later.
The earthquakes were also felt in several neighboring countries in the region, including Lebanon and Syria.
2 months ago