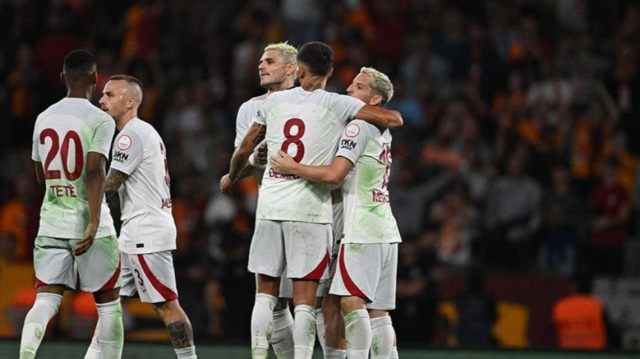 Galatasaray are set to visit Manchester United in a UEFA Champions League Group A match on Tuesday as the Turkish champions are looking for their first win in England.
In all European campaigns including the top-tier Champions League, Galatasaray have so far played 10 away matches against English clubs, but the Lions could not beat them as visitors.
Galatasaray, who won the 2000 UEFA Cup and a UEFA Super Cup in the same year, have played against English clubs 21 times in history.
The Istanbul club previously met Manchester United six times, Liverpool and Chelsea four times each, Arsenal three times (one in a neutral ground) and Leeds United and West Bromwich Albion twice each.
In these 21 matches against the English clubs (both home and away), Galatasaray won three games, took eight draws and were handed 10 losses.
- Galatasaray beat English clubs only at home
Galatasaray won against English clubs three times, but only in Istanbul: 2-0 against Leeds United, 3-2 against Liverpool and 1-0 against Manchester United.
Meanwhile in England, Galatasaray had three draws but lost seven times.
The Lions lost twice each against Chelsea and Man Utd.
Arsenal, Liverpool and West Bromwich beat Galatasaray once each in the European competitions.
At Copenhagen's Parken Stadium, which is a neutral ground, Galatasaray beat Arsenal 4-1 on penalties to win the 2000 UEFA Cup, a historic success for Türkiye.
The penalty shootout decided the winner after regular time and extra time ended 0-0 in the final held in the Danish capital.
- Played most against Man Utd
Galatasaray and Manchester United are quite familiar to each other as the two teams have met six times in history.
Among the English clubs in the European competitions, Galatasaray played the most against Manchester United, and the teams met in previous Champions League campaigns
Galatasaray beat Manchester United once in this tournament.
The Lions toppled Man Utd 1-0 in a 2012-13 Champions League group match, which was their last game against each other.
Former Galatasaray and Türkiye forward Burak Yilmaz scored the header against the Red Devils at Ali Sami Yen Sports Complex in 2012.
Meanwhile, Manchester United beat Galatasaray twice at Old Trafford: 4-0 in the 1994-95 Champions League and 1-0 in the 2012-13 Champions League season. Three games between them ended as draw.
- Man Utd face shocking elimination in 1993
In 1993, Galatasaray and Man Utd first met in the Champions League second round.
Manchester United, who were the favorites of the tie, were shocked after Galatasaray salvaged a 3-3 draw in the first leg at Old Trafford.
Sir Alex Ferguson's men then traveled to Istanbul for the second leg, which ended 0-0. Underdogs Galatasaray fought to win on away goals to proceed to the Champions League group stage.
Man Utd were sensationally eliminated, upsetting their fans, and the Red Devils' failure in this tie is still remembered.
قبل٪ s