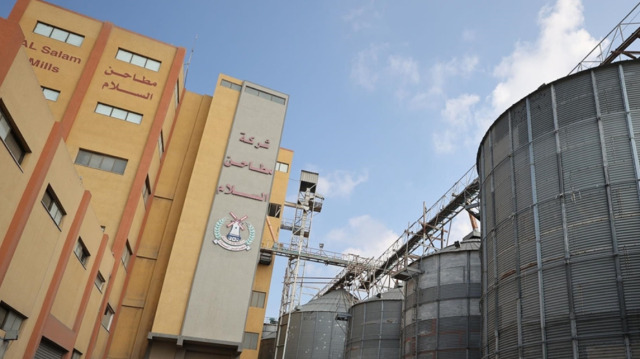 The largest grain mill in the Gaza Strip, which was left as the only mill in the besieged enclave, also ceased to operate after being severely damaged by the Israel army's heavy bombing late on Wednesday, a flour distributor told Anadolu on Sunday.
"Al-Salam Mill came under Israeli artillery shelling last Wednesday, which took it out of service," said Elias Awad, a flour distributor in the central and southern regions of Gaza.
He feared further problems for the people of Gaza after the closure of this mill because, according to the international agreement, the Palestinian government cannot import wheat flour and must instead purchase the essential commodity from Israeli merchants.
"The Gaza Strip is tied to the Palestinian Authority, according to the Paris Trade Agreement," he said, adding "By which, Palestinian merchant cannot import wheat directly from wheat-producing countries, but rather buy wheat from Israeli merchants and store it in silos."
He described Al-Salam as "the largest mill in the Gaza Strip for producing flour." It had the largest production and storage capacity of 7,000 tons. Prior to the war, he said, "We used to produce 350 tons of flour and about 100 tons of animal fodder."
However, due to a lack of diesel fuel during the war, production was reduced to 100 tons, he explained.
Since the beginning of the war, the mills have received diesel from the UN Relief and Works Agency for Palestine Refugees in the Near East (UNRWA) to grind wheat flour and other commodities.
"Before the war, we produced more than five types of flour in addition to fodder, and we worked 24 hours a day. During the war, our working hours were reduced to 12 hours because we couldn't sleep in the mills due to bombing in the area," he said.
On Saturday, UNRWA said, "The lack of supplies, continuous bombing, and communications outages make humanitarian relief very difficult," and added that "queuing up to get bread has become worrying and unsafe after Israel bombed about 10 bakeries in Gaza."
During a press conference on Friday, UN spokesman Stephane Dujarric said there are no bakeries open in the northern Gaza Strip due to a lack of fuel. There are only nine bakeries in operation in the Strip's south, he added.
The UN World Food Program (WFP) also warned on Friday that the Gaza Strip faced widespread famine.
#
Palestine - Israel Conflict
12 gün önce