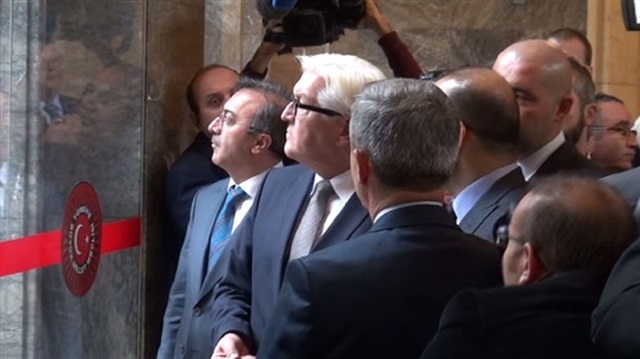 German Foreign Minister Frank-Walter Steinmeier visited on Tuesday Turkey's capital of Ankara, where he observed the damage of the Turkish parliament, which was bombed during the July 15 defeated coup.
After meeting Parliament Speaker İsmail Kahraman, Steinmeier made a tour of the bombed parliament building.
The German minister was accompanied by Head of Turkish Foreign Affairs Commission Taha Özkan.
After the coup bid, a large number of politicians from many countries visited the parliament that was bombed during the bloody coup bid.
As many as 246 people were martyred and around 2,200 others were injured when a section of the armed forces tried to overthrow the government.
Turkey has accused the Fetullah Terrorist Organization (FETÖ), led by U.S.-based Fetullah Gülen, of organizing a long-running campaign to topple the state through the infiltration of institutions such as the military, police and judiciary.