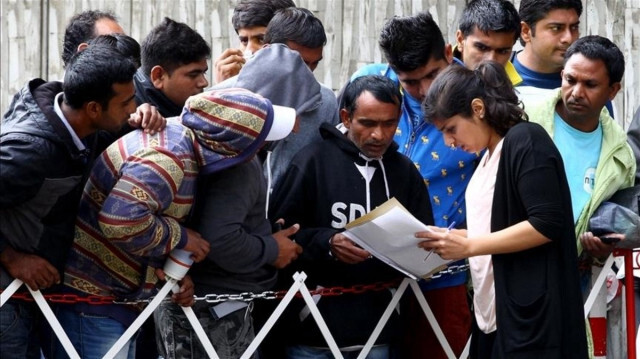 The German government has come under mounting pressure to tackle migration as the number of irregular migrants entering the country surged in recent months.
Germany's main opposition party, the conservative CDU/CSU alliance, on Sunday renewed its call for a 200,000 ceiling on the number of refugees the country accepts annually.
Christian Social Union's (CSU) chairman and Bavarian premier Markus Soder said the country does not have the capacity to integrate more than 200,000 refugees annually.
"We are for helping refugees, but we are against uncontrolled immigration to Germany," Soder told public broadcaster ARD on Sunday night.
"At the moment we are stretched to our limit, a real integration is not possible under these conditions. Across the country, local authorities can hardly organize housing, schools, and day-care centers for them," he said.
Soder called on Chancellor Olaf Scholz's left-liberal coalition government to cap the number of refugees at 200,000 and also said that this could be defined as a benchmark.
He also suggested ending Germany's special refugee admission programs and stepping up the return of migrants whose asylum applications were rejected.
- Surge in migrant arrivals
Around 205,000 migrants applied for asylum in Germany between January and August this year, marking an increase of 77% compared with the same period last year.
Opposition lawmakers are warning that the figure could reach 400,000 by the end of the year if the government does not take urgent measures.
At the peak of the refugee crisis in 2016, around 720,000 people, mostly Syrians and Iraqis, had applied for asylum in Germany.
- Government against refugee cap
Interior Minister Nancy Faeser promised that the government will increase police checks on border crossings to reduce irregular migration and discourage human smugglers
The Social Democrat politician, however, turned down the calls for a refugee cap, stressing that such a step would mean the violation of international humanitarian law.
"We have the European law, we have the international law. We cannot take such a decision and introduce limitations on the individual right to asylum. We have obligations under the UN Geneva Refugee Convention," she told public broadcaster ARD.
Faeser underlined that the problem can only be solved by closer cooperation among the European Union (EU) member states, and by developing a mechanism for the fair distribution of asylum-seekers.
- Top destination for irregular migrants
Germany, which is Europe's largest economy, remains a top destination for irregular migrants and asylum seekers arriving in the EU.
Currently, around 1 million Ukrainian refugees are living in the country. Since January, more than 62,000 Syrians and 37,000 Afghans applied for asylum, according to official figures.
Those fleeing from war and political persecution in their country are entitled to refugee status or subsidiary protection in Germany.
In recent months, illegal border crossings by economic migrants have also significantly increased, forcing the government to consider new measures on the borders with Poland and the Czech Republic. Authorities registered more than 45,000 illegal entries in the first six months of this year, marking an increase of 56% compared with the same period in 2022.
Currently, an estimated 280,000 foreign nationals are staying in Germany without a valid residence permit, and they are obliged to leave the country.
Nearly half of them were economically motivated irregular migrants, whose asylum applications were declined.
2 ay önce