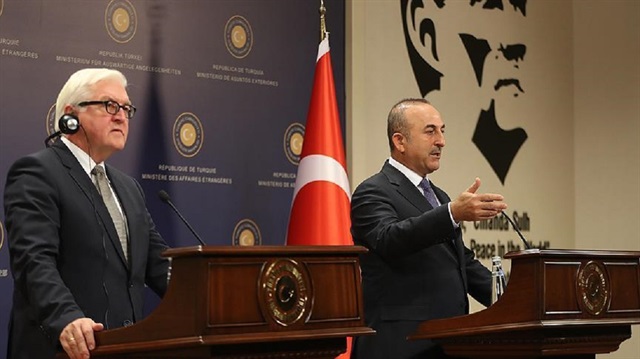 Ankara's expectation of both Germany and other European Union countries is that despite differences, they see Turkey as an equal partner, Turkey's foreign minister said Tuesday.

"If you want to advance your relations with us in every area, you need to see Turkey as an equal partner, not a second-class country, because we see our partners as such. We do not look at any country from up on high," Mevlüt Çavuşoğlu told a joint press conference in Ankara alongside his visiting German counterpart Frank-Walter Steinmeier.

Çavuşoğlu said in talks with Steinmeier, they had a chance to discuss Turkish-EU relations and regional issues, adding that Turkey places great importance on its ties with Germany, one Europe's most important countries.

On recent strains between Turkey and the EU and its member countries, Çavuşoğlu decried EU figures' remarks about halting Ankara's accession talks, saying they are triggering a Turkish public backlash.

"We can overcome this challenging process only through mutual trust-based steps," he added.

"Turkey and Germany have worked together against some terrorist organizations, including Daesh, and both are also very strong allies in NATO," Çavuşoğlu stressed to reporters.

"We have expectations of Germany. First of all, we do not want PKK terrorists to roam freely around Germany," he said.

Yet people linked to the Fetullah Terrorist Organization (FETÖ) – the group blamed for the July 15 defeated coup in Turkey – as well as the Revolutionary People's Liberation Party-Front (DHKP-C) and Daesh easily conduct their terrorist activities in some other European countries, he said.

More expected to spur EU process

Çavuşoğlu added that Ankara expects more constructive contributions from Berlin on Turkey's EU membership process.

"Turkey needs the EU, the EU also needs Turkey. However we have seen that the EU has often forgotten its need for Turkey and denied it," he said.

Relations between Germany and Turkey have been strained in recent months, largely due to Berlin's reluctance to take strong action against terrorists who use Germany as a platform to spread propaganda, recruit, and raise funds.

The PKK was banned in Germany in 1993 but has more than 14,000 active members in the country and raised more than 13 million euros ($14.3 million) in 2015, according to the annual report of German domestic intelligence agency BfV.

FETÖ is also active in Germany, which hosts a 3 million strong Turkish community. Several high-ranking FETÖ members, also known as Gulenists, are believed to have fled from Turkey to Germany.

This visit is Steinmeier's first visit since the defeated July 15 coup, which martyred 246 people and wounded around 2,200 others.