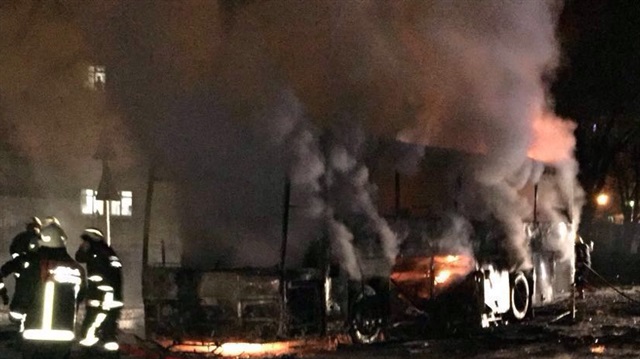 The Peoples' Democratic Party (HDP) has refused to sign a declaration against terrorism in response to the attack perpetrated in Turkey's capital, Ankara on February 17 which left 28 people dead and 61 injured, as the other three parties in the Grand National Assembly of Turkey have approved it.
The declaration, which was approved by the Justice and Development Party (AK Party), Republican People's Party (CHP) and Nationalist Movement Party (MHP), condemned the terrorist attacks against Turkey's 'unity, integrity, peace and security.'
The declaration was counted as a joint manifest, due to the HDP representatives' rejection.
MHP representatives offered the declaration as a joint document of the three political parties, instead of a joint assembly document.
Idris Baluken, Group Deputy Chairman of HDP, said that his party has objections to the context of the text, but not the text itself.
"We (as HDP) also condemn the attack causing civilian casualties. However, we indicated other attacks were missing, such as those that occurred in Diyarbakır, Surer, Ankara and Sultanahmet, and the casualties that occurred during the curfew," Baluken said.
The attack carried out in Turkey's capital Ankara on February 17 was the most recent in Turkey, which has become a target of terrorist groups due to its opposition to terrorism.
As many as 28 people were killed and 61 others injured when a bomb-laden car was detonated when the military buses stopped at a red light near the armed forces' headquarters.
The road which became the scene of the blast is located just 1.5 km north of the scene of another car-bomb blast which left five people dead on September 20, 2011.
Responsibility for that attack was claimed by Kurdistan Freedom Falcons (TAK), a group linked to Kurdistan Workers' Party (PKK).
Previously in January at Istanbul's Sultanahmet Square, 11 people were killed after a suicide bomber, who was later found to be a Daesh terrorist, detonated among a group of German tourists.
The suicide bombing in Istanbul followed several other deadly attacks organized in Suruç and Ankara. The latter was the deadliest attack in the history of the Turkish Republic, as 102 people were killed in the incident.
8 yıl önce