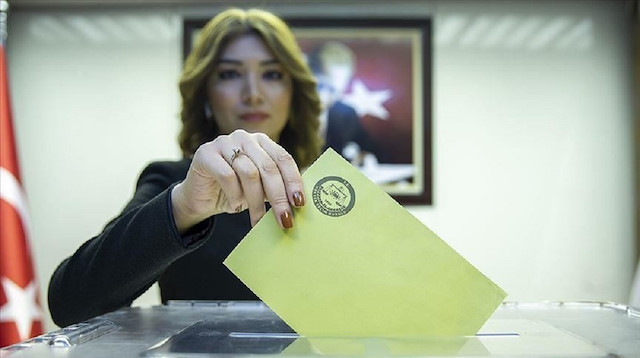 Turkey is gearing up with 57 million voters for local elections to be held across the country on March 31.
According to election regulations, local polls in Turkey are held every five years.
Here is all you need to know about the upcoming polls.
1. How many political parties are taking part?
A total of 12 political parties will participate in the local elections.
The major parties are the ruling Justice and Development (AK) Party, main opposition Republican People's Party (CHP), Nationalist Movement Party (MHP), Good (IYI) Party, and Peoples' Democratic Party (HDP).
Also taking part are the Independent Turkey Party (BTP), Grand Unity Party (BBP), Democrat Party (DP), Democratic Left Party (DSP), Saadet (Felicity) Party, Communist Party of Turkey (TKP), and Patriotic (Vatan) Party.
2. How many ballot boxes will be set up across Turkey?
Apart from the ballot boxes to be set up in prisons, some 44,212,704 voters will vote at 142,777 ballot boxes in the country's 30 bigger cities, called metropolitan municipalities.
Meanwhile, 12,837,077 voters will vote at 51,851 ballot boxes in remaining 51 provinces in Turkey.
3. How do elections work in larger cities?
Voters living in Turkey's larger cities will vote to elect a mayor for the entire city, as well as district municipal mayors, city council members, mukhtars (neighborhood officials), and members of elder councils.
Turkey has 30 metropolitan municipalities including the capital Ankara and Istanbul, the city where nearly one of five Turkish citizens live, as well as Adana, Antalya, Aydin, Balikesir, Bursa, Denizli, Diyarbakir, Erzurum, Eskisehir, Gaziantep, Hatay, Izmir, Kahramanmaraş, Kayseri, Kocaeli, Konya, Malatya, Manisa, Mardin, Mersin, Mugla, Ordu, Sakarya, Samsun, Sanliurfa, Tekirdag, Trabzon, and Van.
4. What are the voting hours?
Polls will be open from 7.00 a.m. to 4.00 p.m. local time (0400-1300GMT) in 32 out of Turkey's 81 provinces: Adiyaman, Agri, Artvin, Bingol, Bitlis, Diyarbakir, Elazig, Erzincan, Erzurum, Gaziantep, Giresun, Gumushane, Hakkari, Kars, Malatya, Kahramanmaras, Mardin, Mus, Ordu, Rize, Siirt, Sivas, Trabzon, Tunceli, Sanliurfa, Van, Bayburt, Batman, Sirnak, Ardahan, Igdir and Kilis, as well as in the penal institutions in these provinces.
In the remaining provinces, polling stations will be open from 8.00 a.m. to 5.00 p.m. local time (0500-1400GMT).
5. How many independent candidates are taking part in larger cities?
A total of 73 independent candidates will compete for the district municipal mayor candidacy in metropolitan cities.