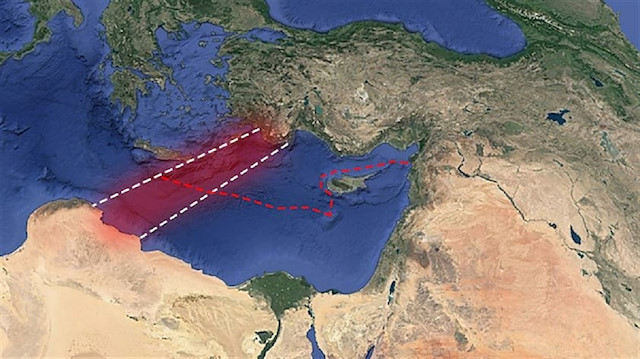 The historic agreement reached between Turkey and Libya will put an end to Greece and Southern Cyprus's 15-year violations of international sovereign rights in the eastern Mediterranean Sea, according to an expert on the topic.
Speaking exclusively to Yeni Şafak daily, journalist Mehmet Kancı pointed that Turkey will be within its rights to counter any threat to its interests starting from the open waters of Crete Island.
According to Kancı, the new axis formed between Turkey's Marmaris-Fethiye-Kaş and Libya's Derna-Tobruk-Bordiyah will encompass a few nautical miles west of Crete Island.
Turkey and Libya have signed two memoranda of understandings, the Turkish Presidential Communications Directorate announced Wednesday.
"The Security and Military Cooperation" and "Restriction of Marine Jurisdictions" agreements were signed when Turkish President Recep Tayyip Erdoğan held a closed meeting that lasted 2 hours and 15 minutes with Fayez al-Sarraj, chairman of Presidential Council of Libya, at the Dolmabahçe Palace in Istanbul.
The Directorate said the agreement is an effort to strengthen relations and cooperation between the two countries.
Turkey's maritime boundaries agreement with Libya is aimed at protecting Ankara's rights under international law, Turkish Foreign Minister Mevlut Cavusoglu said on Thursday, a day after the deal was signed in Istanbul.
At a news conference, he said Turkey had been unable to agree such deals with some other countries but could do so in the future.
The accord could further complicate disputes over energy exploration in the eastern Mediterranean where Turkish drilling has angered Greek Cypriots, Athens and the European Union.