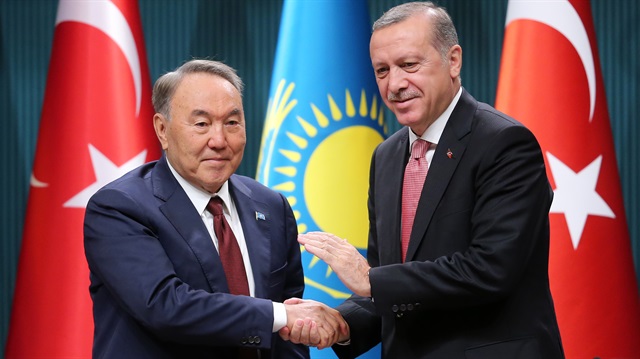 President of Kazakhstan Nursultan Nazarbayev, on an official visit to Turkey, said the tour was aimed to show his unanimous support for Turkish President Recep Tayyip Erdoğan.

"I am here only to express that I am with Erdoğan and Turkey," Nazarbayev told reports during a joint press conference in Ankara.

He stated that Turkey is "the most important ally" of his country.

"Turkey is one of the trusted partners of Kazakhstan. We have common religion, language and culture," he added.

Kazakh leader becomes the first state leader visiting Turkey after the July 15 failed coup attempt masterminded by the U.S.-based self-styled cleric Fetullah Gülen.

Gülen and his Fetullah Terrorist Organization (FETÖ) are operating hundreds of schools, charity foundations, NGOs and other institutions around the world that give the appearance of being legal to spread their terror network.

The organization opened dozens of schools in Kazakhstan in the 1990s during the Presidency of Turgut Özal, one of Turkey's most popular leaders.

The Kazakh president said his government was investigating the schools and its teachers on request of the Turkish government.

"If any of the teachers are found to be linked with FETÖ, we immediately would hand them over to Turkey," he added.

"Those who have hostility towards Turkey are also an enemy of ours," the Kazakh leader said.

Turkish President Erdoğan expressed his gratitude to his Kazakh counterpart over the visit and support to Turkey's democracy.

He said that FETÖ is a threat to all countries in which it has an establishment.

Erdoğan also called on all Turkish citizens to attend the Democracy and Unity meeting in Istanbul scheduled to be held on Aug 7 at 5 p.m.