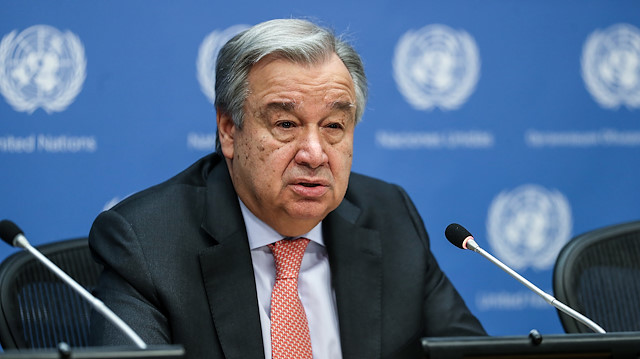 UN Secretary General Antonio Guterres said Friday the Human Rights Council has the capacity to probe the murder of journalist Jamal Khashoggi.
"The Human Rights Council has the possibility to take decisions in relation to launching different forms of interaction," Guterres said at a press conference at the UN headquarters in New York. "There are many instruments Human Rights Council can use, requested by member states, and I am not in a position to encourage member states. I'm saying these instruments are available."
UN Human Rights Chief Michele Bachelet said last month that the killing of Khashoggi deserves an international investigation, however, the UN does not have the jurisdiction to launch one.
Khashoggi, a contributor to The Washington Post, went missing after entering the Saudi Consulate in Istanbul on Oct. 2.
After producing various contradictory explanations, Riyadh acknowledged he was killed inside the consulate building, blaming the act on a botched rendition operation.
While an investigation and trial was held in Saudi Arabia, the UN said it found the probe insufficient.
In response to a question by Anadolu Agency, the UN chief said he himself also did not have power to launch an investigation into the journalist's murder.
"I don't have the right to launch any investigation, there is a huge confusion about what the Secretary General can and can't do," Guterres said.
"I do not have the right to launch a criminal investigation myself and no formal criminal investigation was requested to me by any member state," he added.
UN chief backs Turkey's legitimate security concerns
Turkey has justifiable security interests in northeastern Syria, UN Secretary General Antonio Guterres said Friday amid calls for a buffer zone the area.
Guterres said any solution must take into account Syria's territorial integrity, the "legitimate security concerns" of Turkey, and recognition of Syria's diversity.
"These are the three criteria that we have in analyzing any proposal that might eventually exist," Guterres said.
In a Twitter post on Monday, U.S. President Donald Trump proposed the establishment of a 20-mile (32-kilometer) wide safe zone in Syria's eastern Euphrates region. Later, Turkish President Recep Tayyip Erdogan held a phone talk with his U.S. counterpart and evaluated the details of the safe zone.
The proposal will be discussed during an upcoming Russian-Turkish presidential-level meeting, according to Turkish presidential spokesman Ibrahim Kalin.