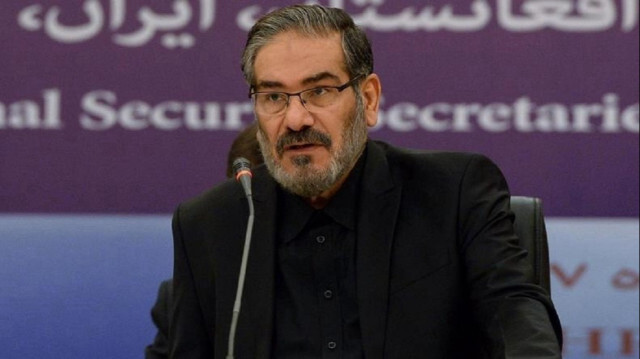 Iran's top security official Ali Shamkhani
Iran's top security official Ali Shamkhani, after high-stakes trips to Beijing and Abu Dhabi aimed at rebooting diplomatic and security ties with Persian Gulf neighbors, is now slated to visit Baghdad.
Nour News, which is affiliated with Iran's Supreme National Security Council (SNSC) that Shamkhani heads, in a report on Saturday said the official will visit Iraq as part of his regional tour.
The report said, "maintaining and promoting more than $10 billion trade exchanges" with Iraq requires "solving some security challenges" between Tehran and Baghdad as well as "speeding up the implementation of economic agreements and smoothening banking cooperation."
Shamkhani, the report added, is accompanied on his regional diplomacy tour by the head of Iran's central bank, the head of the foreign intelligence unit in the intelligence ministry, and a deputy foreign minister for the Persian Gulf region.
Another report on Saturday, citing an "informed source" in the Iraqi government, said a key issue on the Iranian official's agenda in Iraq is to sign a memorandum of understanding on border security.
Shamkhani, the report stated, is expected to hold consultations with Masrour Barzani, the prime minister of the Kurdish Regional Government (KRG), and his Iraqi counterpart Qasim al-Araji during the visit.
He will also meet the Iraqi president, prime minister, and parliament speaker among others.
Iran has often protested what it calls the presence of "terrorist groups" in northern Iraq, with Islamic Revolutionary Guard Corps (IRGC) carrying out a series of drone and missile strikes late last year on their positions in the region.
Iran also blamed the "terrorist groups" for carrying out an attack on a military workshop in central Isfahan city in late January, which it claimed was thwarted.
In November last year, while addressing a joint press conference in Tehran with Iraqi Prime Minister Mohammad Shia al-Sudani, Iran's President Ebrahim Raisi described security in the region as a "common concern" for both Tehran and Baghdad.
Iran has also repeatedly called for the ouster of American forces from Iraq and other regional countries, saying their presence has a "destabilizing effect on regional security."
Shamkhani's visit to Iraq comes weeks after US Defense Secretary Lloyd Austin made a surprise visit to Baghdad and announced that the US military presence will continue in the Arab country.
- Rapprochement with Saudi Arabia, visit to UAE
The rapprochement between Iran and Saudi Arabia, brokered by China last week after two years of negotiations in Iraq and Oman, is believed to be a regional game changer.
White House welcomed the thaw in Tehran-Riyadh relations but with a hint of skepticism.
Shamkhani represented Iran in the talks hosted by China that broke the diplomatic ice between Tehran and Riyadh seven years after they severed ties.
Iran's top security official also visited Abu Dhabi on Thursday at the invitation of his Emirati counterpart Sheikh Tahnoun bin Zayed with the aim of reinvigorating bilateral ties.
The UAE and Iran restored their diplomatic ties last year, six years after the latter recalled its ambassador to Tehran in solidarity with its key regional ally Riyadh.
In a meeting with his Emirati counterpart on Thursday, Shamkhani stressed that "cooperation and convergence" must replace "divergence and hostility" in the Persian Gulf region.
He said the trip marks a "meaningful beginning" for the two countries to "enter a new phase of political, economic and security relations."
Speculation is rife that Iran is considering peace agreements with other estranged Persian Gulf neighbors, including Bahrain and Jordan, in the framework of Tehran-Saudi détente.
Iran's Foreign Ministry spokesman Nasser Kanaani in his Monday presser hinted that Iran is ready to restore diplomatic ties with all regional countries, without going into details.
15 gün önce