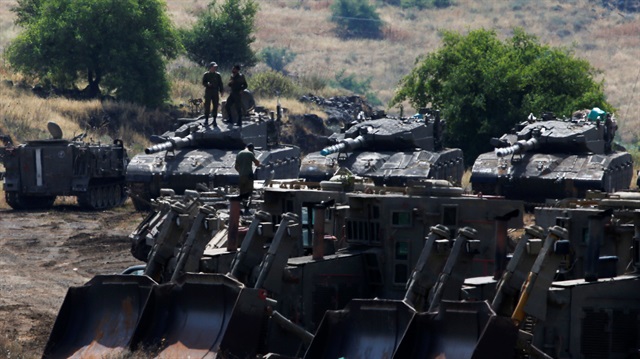 The ultimate target for Israel, as it continues its large-scale military drills, is Turkey, according to a Turkish military expert.
Speaking exclusively to Yeni Şafak daily, former Admiral Soner Polat stated that the achievements of Turkey against the U.S.-PKK-Israel alliance in Syria will strongly affect the issue of Palestine and Jerusalem, and after imperial actors obtain their goals in the Middle East they will set their sights on Anatolia.
Set their sights on Turkey
The former admiral noted that the recent developments in the region have spiraled out of proportion, pointing that the Palestine frontline is exactly the same today as it had been during World War I.
He warned that the alliance between the leaders of Israel, Saudi Arabia, United Arab Emirates (UAE) and Egypt is not only dangerous to their own people but is "a threat to all humanity."
"Iraq, Syria, Libya and Tunisia are condemned to chaos by imperialist players and provided they get what they want in the axis of Damascus, Homs, Aleppo, Deir Ezzor, Hasakah and Raqqa, it won't stop there. They will set their sights on Anatolia. They will not do it through their self-made agents such as Daesh, the Fetullah Terrorist Organization (FETÖ) and the Kurdistan Workers' Party (PKK), they will do it directly. It's exactly as it was a hundred years ago. Palestine is the issue of Turkey in every sense of the word."
Turkey held an emergency OIC summit on Friday in Istanbul to discuss joint action regarding Israeli violence against Palestinians.
Palestinian youths are the guardians of Anatolia
The former admiral pointed that the Palestinian youths' resistance of Israeli occupation and oppression is "not actually defending their homeland alone, they're simultaneously the guardians of Anatolia."
Polat stressed that Turkey must support the Palestinian resistance with all its might, warning that showing any weakness in this regard would result in facing Israeli missiles landing inside Anatolia.
Polat also warned that any gains made by the Zionist state in Syria will enable it to get closer to Turkey.
"For us Gaza is no different than Ayn al-Arab, Afrin or Manbij," concluded Polat.
Israeli violence martyred at least 62 Palestinians, the youngest just 8 months old, last Monday along Gaza's eastern border.
Sovereignty cannot be bargained
Polat pointed that despite the Palestine issue being prioritized, it should not detract focus from Tal Abyad, Qandil, Sinjar and Ayn al-Arab.
"We must maintain our sensitivities regarding the issue of the terror corridor such as in Manbij and rid these regions of terror. This is an issue of our sovereignty and there cannot be any bargain in this regard. The gains we made by countering the U.S.-PKK-Israel alliance will greatly impact the Palestine-Jerusalem line as well as Lebanon, the Gulf and Egypt."