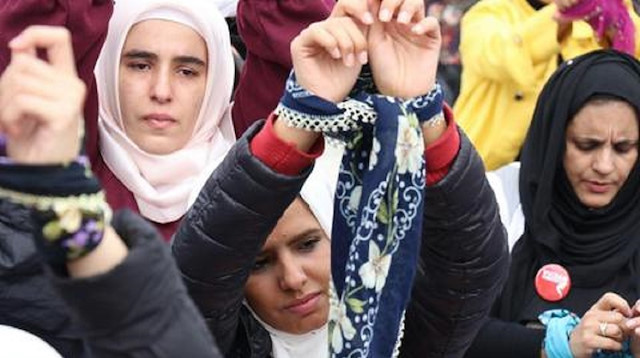 Istanbul is set to host an international conference on Wednesday to raise awareness of the suffering of women and young girls imprisoned by the Syrian regime.
The Conscience Movement will hold the conference with participants from 45 countries, including Syria, Britain, South Africa, Ecuador, Qatar, Ukraine, Bosnia and Herzegovina, and Brazil.
Among the participants are Baroness Pola Uddin, a member of Britain's House of Lords, Zwelivelile Mandlesizwe Dalibhunga Mandela, chief of the Mvezo Clan Traditional Council in South Africa and grandson of Nelson Mandela, and Ecuadorian parliamentarian Ana Belen Marin Aguirre.
Speaking to Anadolu Agency, Yavuz Dede, the movement's spokesman, said that the conference aims to draw international attention to the suffering of women imprisoned amid the Syrian civil war and subjected to torture and rape.
Dede said that the Conscience Movement is an international initiative largely devoted to the release of women and children arrested since 2011, the start of the Syrian civil war.
Dede said the movement is supported by more than 2,000 NGOs and thousands of people from 110 countries.
A statement by the movement said that more than 13,500 Syrian women have been detained since the war started in March 2011, adding that more than 7,000 women remain in these prisons, often subjected to torture, rape, or sexual violence.
Stating that the movement's priority at the conference is the release of the Syrian women and children, Dede said it will also work on cases of women and children who suffer in war and conflict zones across the world.
The movement is an international initiative founded last March, after an all-women international convoy gained international success by raising awareness of women imprisoned by the Bashar al-Assad regime in Syria.
On March 6, the international Conscience Convoy started on a three-day journey with 55 buses from Istanbul that ended in Hatay, near the Syrian border.
The final rally was attended by over 10,000 women to mark International Women's Day.
Women from over 50 countries took party in the event, including ones from Syria, Ukraine, Chile, Palestine, Iraq, Britain, East Turkestan, Brazil, Malaysia, Pakistan, Kuwait, and Qatar.
The convoy included women from all creeds and professions such as civil society representatives, lawyers, academics, artists, athletes, and housewives.
Syria has been locked in a vicious civil war since early 2011, when the Assad regime cracked down on pro-democracy protests with unexpected ferocity.
Hundreds of thousands of civilians have been killed or displaced in the conflict, mainly by regime airstrikes targeting opposition-held areas.
5 years ago