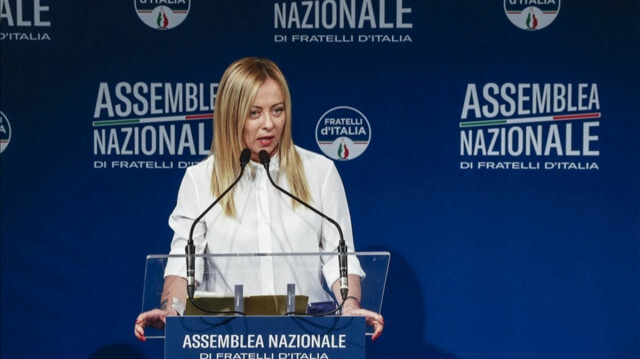 Italian Prime Minister Giorgia Meloni
Italian Prime Minister Giorgia Meloni said in a letter to Germany's chancellor that she was astonished to learn of Berlin's recent decision to finance two non-governmental organizations (NGOs) that are rescuing migrants in the Mediterranean Sea and disembarking them in southern Italy.
"I have learned with astonishment that your administration — without coordinating with the Italian government — has allegedly decided to support with substantial funds non-governmental organizations engaged in the reception of irregular migrants on Italian territory and in rescues in the Mediterranean Sea," Meloni wrote to Olaf Scholz in a letter dated Sept. 23, Italy's state-run ANSA news agency reported Monday.
"I believe that the efforts, including financial, of the EU nations interested in providing concrete support to Italy should rather concentrate on building structural solutions to the migratory phenomenon," she added.
On Sept. 22, Meloni's office expressed "great astonishment" at the news reported by ANSA, according to which a spokesman for the German Foreign Ministry had announced imminent funding to NGOs for a project to assist migrants on Italian territory and a project involving rescues at sea.
Later it became known that one of the NGOs to receive the funding was SOS Humanity, which operates rescue vessels in the central Mediterranean. The NGO itself said it had been allocated €790,000 ($836,811).
Separately, the Catholic Sant'Egidio Community charity said Friday that it had signed a fresh deal with Berlin to fund migrant activities in Italy as part of a years-long relationship.
The number of migrants landed in Italy so far this year has reached over 127,000 – more than double that of the same period in 2022. The majority have set off from Tunisia, where in July, Meloni and European Commission President Ursula von der Leyen signed a controversial deal to stem irregular migration.
#
non-governmental organizations
#
Sant'Egidio Community charity
2 ay önce