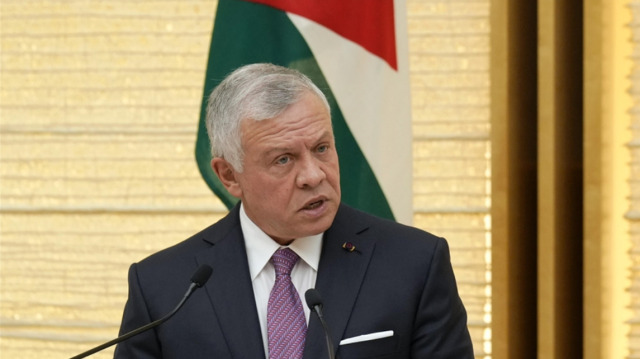 King Abdullah II of Jordan warned on Sunday that Israel's continuation of attacks on the Gaza Strip could lead to an expansion of the conflict in the wider region.
The monarch received EU Commission President Ursula von der Leyen in Amman and stressed the immediate need for a cease-fire in Gaza, while protecting civilians and ensuring uninterrupted delivery of humanitarian aid, according to a statement from the Royal Court.
He said Israel's continuation of its "hideous war" on Gaza and its "illegal violations in the West Bank and Jerusalem" will lead to an "explosion of the situation in the entire region."
Von der Leyen, for her part, said she will cooperate with Jordan on providing "much needed" humanitarian aid to Gaza, and condemned the "unacceptable violence by extremists in the West Bank."
"We agree that the cycle of violence needs to be broken," and a two-state solution is the only way to achieve peace, she added.
Von der Leyen arrived in Jordan after her visit to Egypt, where she met Egyptian President Abdel Fattah El-Sisi.
Israel has killed 13,000 Palestinians, including 5,500 children and 3,500 women, in its air and ground attacks on the Gaza Strip since the surprise offensive by Hamas on Oct.7. The official Israeli death toll, meanwhile, stands at about 1,200.
Thousands of buildings, including hospitals, mosques, and churches, have either been damaged or destroyed in Israel's relentless strikes on the besieged enclave.
An Israeli blockade has also cut Gaza off from fuel, electricity, and water supplies, and reduced aid deliveries to a trickle.
Tel Aviv has rejected growing calls for a cease-fire until the release of hostages held by Hamas. Prime Minister Benjamin Netanyahu on Saturday said "we will only agree to a temporary cease-fire and only in exchange for the return of our hostages."
12 gün önce