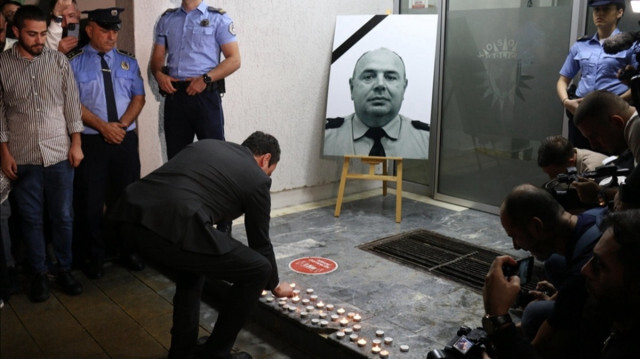 Kosovo President Vjosa Osmani decided to declare Monday a national day of mourning after a clash between police and gunmen left one officer dead and another wounded.
''The President of the Republic of Kosovo, Vjosa Osmani, in support of the Constitution of Kosovo, has decided that Monday, September 25, 2023, will be declared a national day of mourning in honor of police officer Afrim Bunjaku, killed in the north of the country,'' the Presidency said Sunday.
Prime Minister Albin Kurti said on X that Sergeant Bunjaku was "killed by terrorists in the early hours of the morning in the line of duty, protecting the territorial integrity and rule of law of our country."
Another officer was wounded in the clash between the police patrol unit and a group of armed ethnic Serbs in northern Kosovo.
The group of armed Serbs blocked a bridge leading to the village of Banjska, located near the city of Mitrovica, with two trucks lacking license plates.
A shootout erupted after the group opened fire on police, who had arrived at the scene to investigate the issue.
A large number of security forces were dispatched to the region, and the Brnjak border crossing between Kosovo and Serbia was closed.
Serbia and Kosovo face many disputes as Belgrade sees its neighbor as its territory and has blocked its efforts to join international organizations and obtain recognition from other states.
The leaders of the two nations have met in European Union-facilitated talks in Brussels to normalize relations, but the parties have so far struggled to implement the agreements reached.
3 ay önce