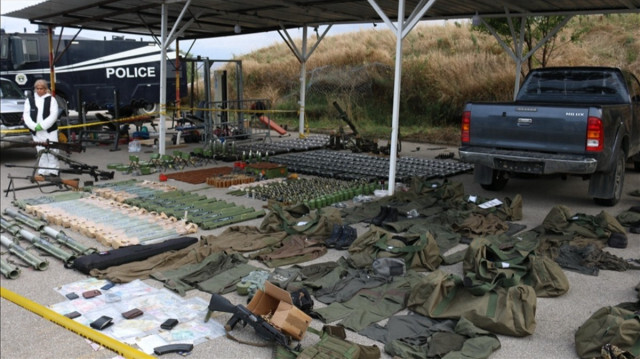 Kosovo police on Monday seized a huge quantity of heavy weapons and ammunition from a village in the country's north, which has been a hotspot of ongoing clashes between law enforcement and armed ethnic Serbs since Sunday.
The police later displayed heavy weapons, vehicles, and ammunition seized during the day-long clashes with the armed Serb group in Banjska village at a police camp in Mitrovica city.
Internal Affairs Minister Xhelal Svecla, who was present at the police camp, said a serious action against Kosovo had been prevented.
"According to the information obtained, so far, six injured terrorists are being treated at Novi Pazar Hospital (in Serbia)," he said, asking Serbian authorities to hand them over to Kosovo for their involvement in "terrorist actions."
"We want these six to hand them over to the Kosovo authorities so they can face justice." Similarly, we want Serbia to hand over any members of this group who have managed to escape to Serbia,'' Svecla said.
Serbia's plan to involve hundreds of people in events aimed at destabilizing Kosovo failed, the minister claimed, adding that the weapons seized by police are military weapons manufactured by Serbia in 2021, some of which were confiscated weapons.
Kosovo Police General Director Gazmend Hoxha said the operation was the largest police action in the country since the Kosovo War in 1999.
"Police operations are still continuing, and so far, weapons of various calibers, rocket launchers, explosives, detonators, one heavy armored vehicle, 24 automobiles, two 4x4 motorcycles, 150 explosives, three drones, 30 AK47 weapons have been found in and around the monastery in Banjska.
"Also, six machine guns, 29 mortars, over 100 military uniforms, as well as work tools such as pickaxes, shovels, hand saws, medicine, and food that will last for a long time were found,'' said Hoxha.
People other than the villagers are not allowed to enter or exit the Banjska village, he added.
Kosovo police are on patrol on all roads leading to the village, while security forces are still conducting operations in the area.
Additionally, the Jarinje and Bernjak land borders between Kosovo and Serbia are still closed to crossings.
Kosovo declared Monday a national day of mourning following a clash between police and gunmen on Sunday that left one officer dead and another injured.
The clashes erupted when a Serbs armed group blocked a bridge leading to the village of Banjska, near Mitrovica, with two trucks without license plates.
The armed gunmen opened fire on police officers who had arrived on the scene to investigate the issue. Later, a large number of security forces were dispatched to the area.
Serbia and Kosovo face many disputes as Belgrade sees its neighbor as its territory and has blocked its efforts to join international organizations and obtain recognition from other states.
The leaders of the two nations have met in European Union-facilitated talks in Brussels to normalize relations, but the parties have so far struggled to implement the agreements reached.
3 months ago