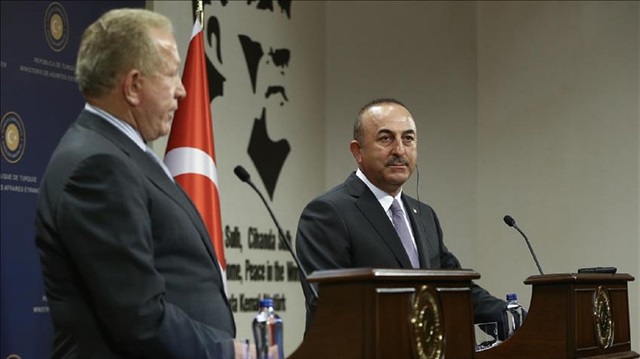 Turkey's foreign minister on Thursday said beyond anything northern Iraq's regional government has proposed, it must cancel outright the results of last month's illegitimate referendum.
"Northern Iraq's step back is an important step but an inadequate one. This referendum must be cancelled," Mevlüt Çavuşoğlu told a joint press conference in Ankara with his Kosovar counterpart Behgjet Pacolli.
Çavuşoğlu said Kurdish Regional Government (KRG) President Masoud Barzani is in a weaker spot now after the illegal poll, adding that in a one-on-one meeting he had previously warned Barzani about the consequences of the illegitimate referendum.
On Wednesday, the KRG -- fearing more military escalation by Baghdad -- offered to "suspend" the results of last month's illegitimate poll, halt all military activity, and enter into dialogue with the central government.
Tension has steadily mounted between Baghdad and the KRG since Sept. 25, when Iraqis in KRG-held areas -- and in several disputed areas, including Kirkuk -- voted on whether or not to declare political independence.
The unconstitutional referendum was heavily criticized by most regional and international actors, with many warning it would distract from Iraq's ongoing fight against terrorism and further destabilize the region.
Kirkuk, Kosovo
"Kirkuk is a disputed region, but its oil reserves belong to the central government" in Bagdad, Çavuşoğlu said.
"We will be cooperating in repairing and renovating [the area]".
Çavuşoğlu also said Turkey "may" open a new border gate with Iraq if the central government in Bagdad assumes control.
Turning to Kosovo, Çavuşoğlu stressed that Kosovo and Turkey are "brotherly nations," saying that he and Pacolli had discussed a wide range of subjects.
"We have implemented over 600 projects worth about $100 million in Kosovo", said Çavuşoğlu, adding that they will continue to support development projects.
"We are supporting our Turkish companies investing in Kosovo. We would like our Kosovar brothers to continue trusting our companies".
He added: "We expect the Kosovo administration to cut red tape, to take more responsibility for our companies. Together with the Kosovo administration, we will increase the amount of investment of Turkish firms there.
"We do not see our relations with Kosovo as an alternative to other countries. Our good relations with other countries don't affect or change our Kosovo policy at all. We are committed to this. Because the people of Kosovo are brothers to Turkey."
Çavuşoğlu also said he had pledged to pay Kosovo a visit in 2018.
Turkish Parliament Speaker Ismail Kahraman later received Pacolli at the parliament.