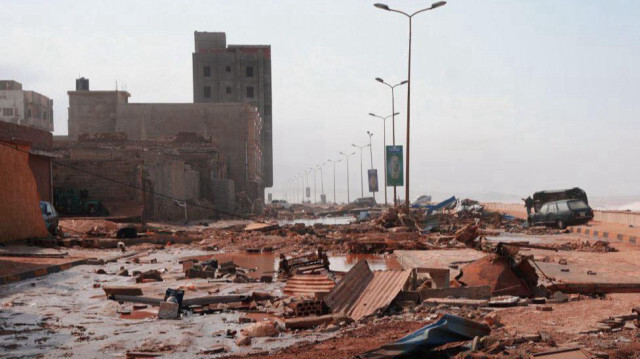 At least 2,300 people have been killed by devastating floods in Libya's eastern city of Derna, the country's Ambulance and Emergency Service said Tuesday.
"Around 5,000 other people have gone missing after the floods," Osama Ali, a spokesman for the service, told Anadolu.
Libyan officials estimate that more than 3,000 people have been killed after floods caused by Storm Daniel struck eastern Libya on Sunday.
Initial reports indicate that dozens of villages and towns were submerged by floods amid widespread damage to infrastructure.
Local authorities in Derna said two dams have collapsed in the city, adding to the deadly floods.
"The network of roads and bridges in Derna has totally collapsed," Al-Hussein Sweidan, head of the roads and bridges department in the Tripoli-based Libyan government, told Anadolu.
He estimated the reconstruction of the damaged roads and bridges in the city at around 300 million Libyan dinars ($67 million).
"A technical team has been assigned by the Transport Ministry to assess the scale of damage in eastern Libya," he added.
Sweidan said that the damage caused by the storm hinders efforts to dispatch aid to the flood-hit areas.
On Monday, Libya's Presidency Council appealed to friendly countries and international aid groups to provide aid to the flood-stricken areas in the eastern region.
3 ay önce