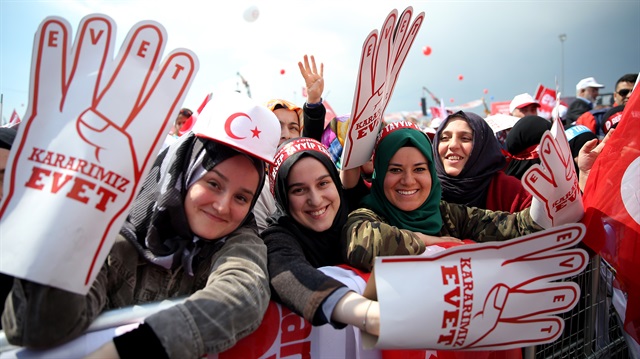 Turkey will vote in a momentous constitutional referendum on Apr. 16. If the proposed changes are approved by the public, the nation's political system will shift from a parliamentary system to an executive presidency.
President Recep Tayyip Erdoğan and Prime Minister Binali Yıldırım will meet with the Turkish people at Yenikapı in Istanbul for a rally in favor of the referendum.
The president and prime minister have been campaigning across Turkey. Erdoğan has signaled a brighter future ahead for Turkey, promising to overcome terrorism and deliver a united Turkey.
Polls indicate swift momentum swinging in favor of the 'Yes' campaign.
The 'Great Istanbul Rally' has drawn millions of citizens waving Turkish flags and 'Yes' signs, and the venue has been prepared accordingly.
Screens 100 square meters in size are emblazoned on the stage, and there are over 100 entrances to the venue.
Transportion, including more than 200 boats and ferries and 6,000 buses, are in service. Five thousand police, 700 health personnel and 70 ambulances are present at the venue.
The ruling Justice and Development Party (AKP) introduced the 18 proposed changes to the constitution with the support of the Nationalist Movement Party (MHP).