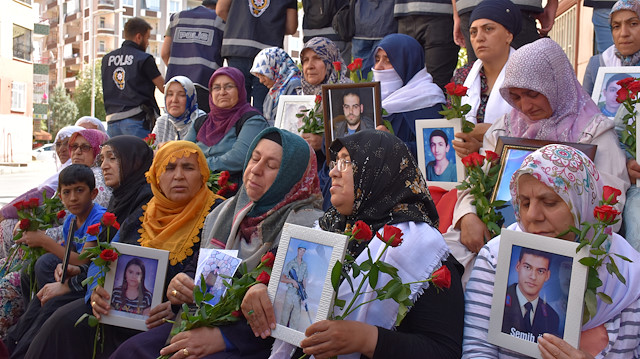 Dozens of mothers in Turkey's southeast have been continuing to stage sit-in protest for around four months against the terrorist group YPG/PKK, who they say kidnapped their children.
The protest started on Sept. 3 outside the offices of the Peoples' Democratic Party (HDP), a party accused by the government of having links to the terrorist YPG/PKK, in Diyarbakir when Fevziye Cetinkaya, Remziye Akkoyun, and Aysegul Bicer said their children had been forcibly recruited by PKK terrorists.
Since then, the number of protesting mothers has been growing, as they demand the return of their children, who, they say, were deceived or kidnapped by the terror group.
Hatice Ceylan, one of the mothers, joined the protest on Oct. 8. On Dec. 10 she was reunited with her son, who was kidnapped by the terror group four years ago.
The happy news gave other families moral support, and so the mothers of Diyarbakir decided not to give up.
Sixteen days later, on Dec. 26, Husniye Kaya, another mother, was told that her daughter Mekiye would also be returning.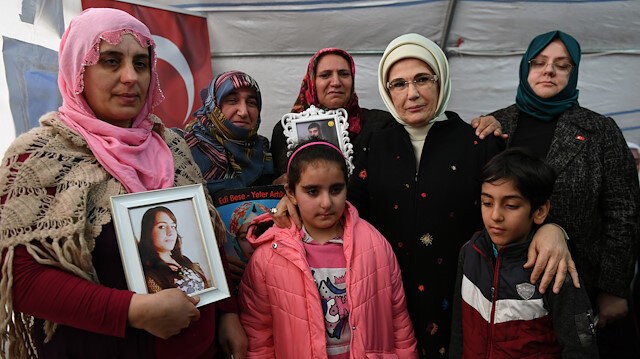 With the help of strenuous government efforts, Mekiye Kaya surrendered to security forces after escaping from PKK camps in northern Iraq and was brought back to Turkey.
Hacire Akar was luckily reunited with her son on Aug. 24 just two days after starting her sit-in, on Aug. 22.
- Huge support for families
All sectors of society supported the families' protests.
The grieving mothers have so far been visited by around 5,000 people, including politicians, bureaucrats, artists, musicians, authors, athletes, and NGO heads.
European Parliament Member Tomas Zdechovsky was among those supporting the families' protest by visiting them.
Members of the Mothers of Srebrenica Association, a group representing women who lost family members during the 1995 Srebrenica genocide, also showed their support through a visit.
Many journalists from various media outlets also spoke to the families, listened to their demands, and reported on their grief.
- Protest to continue until they reunite
During four months of protest, to date three families have been reunited with their children, but the protest of 60 families continues with the hope of further reunions.
Speaking to Anadolu Agency, Guzide Demir, whose son was kidnapped four years ago, at age 16, said, "I hope my son will also come and surrender to our state. We've suffered so much, and we're crying every day."
Remembering her son calling her to say that he was injured, Demir said that she would continue the sit-in until she is back together with her son.
Demir joined the sit-in on Sept. 7 in Diyarbakir.
Fathers are also among the protesting families.
Ekrem Gokkus joined the protests in the province of Bitlis, some 200 kilometers (127 miles) from Diyarbakir.
Gokkus said that he has suffered greatly for five years, since his son Okan was kidnapped. "We're always awaiting his arrival," he said.
Saying that they rejoiced to see other families reunited with their children, Gokkus added: "We felt like our own children came. We were that happy."
Urging his son to surrender to security forces, the grieving father said, "I will wait for him all my life."
- UN: Terror group recruited 313 children in 2018
According to the UN's Children and Armed Conflict report, the YPG, the PKK's Syrian offshoot, recruited 313 children in 2018, up from 224 in 2017.
The report also found that nearly 40% of children recruited by the YPG/PKK were girls -- 20 of them under 15 years old.
In its more than 30-year terror campaign against Turkey, the PKK -- listed as a terrorist organization by Turkey, the U.S. and the EU -- has been responsible for the deaths of 40,000 people, including women, children, and infants.