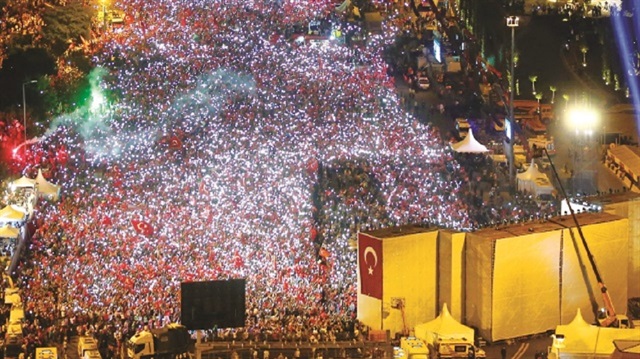 Large crowds across Turkey marched decisively toward squares across the country's large urban centers to mark the first anniversary of last year's failed coup attempt.
Millions flocked to Istanbul's July 15 Martyrs Bridge, formerly known as Bosporus Bridge, which was one of the bloodiest scenes of defeated coup as 36 martyrs lost their lives resisting against putschist soldiers' tanks and bullets.
From the province of Van in the east, to the western coastal city of İzmir, crowds demonstrated once more to the world that the will of the Turkish people will not be defeated.
Istanbul has never seen larger crowds
Millions marched across Istanbul's districts, mainly Çengelköy, Kısıklı and Altunizade, which saw the fiercest and bloodiest acts of resistance during the coup attempt last year. Later, crowds gathered on the July 15 Martyrs' Bridge, formerly known as Bosporus Bridge, from both the Asian and European sides of the city.
During the memorial ceremony, Quran verses and prayers were recited in honor of the fallen martyrs.
Roads were closed to traffic as big crowds carrying Turkish flags swarmed the ceremony area on both sides of Istanbul's Bosporus Strait.
Prayers recited from 90,000 mosques
Prayers were recited again from mosques across Turkey during the commemoration ceremony as they were during the defeated July 15 coup attempt last year in aims of strengthening the people's spirit of union and providing spiritual strength to those who poured to the streets to face bullets and tanks with their bare chests.
Prayers were recited from 90,000 mosques across the country at 00:13 a.m. Istanbul local time and continued until the morning prayer.