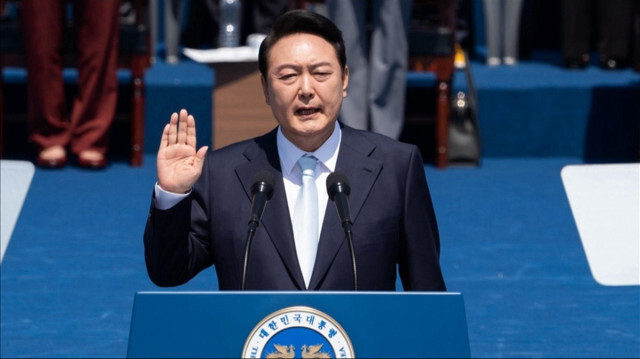 South Korean President Yoon Suk Yeol
South Korean President Yoon Suk Yeol on Tuesday warned that the North Korean regime will be "brought to an end" if it uses nuclear weapons.
Addressing a ceremony at Seoul Air Base observing the 75th Armed Forces Day, Yoon said North Korea should realize that its nuclear weapons will never be able to guarantee its security.
"If North Korea uses nuclear weapons, its regime will be brought to an end by an overwhelming response from the South Korea-US alliance," Seoul-based Yonhap News quoted Yoon as saying.
The president said that Pyongyang is upgrading its nuclear and missile capabilities despite international community warnings.
Yoon vowed to further strengthen security cooperation with the US and Japan.
The South Korean military will also hold a massive military parade in central Seoul on Tuesday for the first time since 2013, featuring some 4,000 troops and over 170 pieces of military equipment, including K2 battle tanks, the country's new "high-power" missile, and attack drones, according to the agency.
Yoon's latest statement came after North Korea on Monday said that the recent progress in its bilateral relations with Russia was its "sovereign" right and "foundation for regional stability."
During his address to the UN General Assembly in New York last week, Yoon said that any arms deal between North Korea and Russia would be tantamount to a "direct provocation" against Seoul.
North Korean leader Kim Jong-un returned to Pyongyang last week after taking a weeklong trip to Russia.
2 ay önce