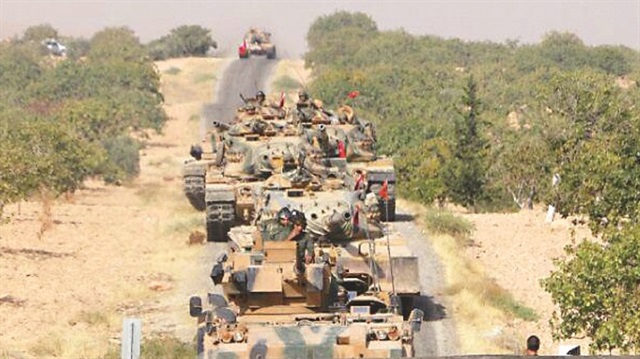 Opposition fighters arrived through a secret crossing from Syria to gather at a Turkish base in preparation for the offensive on Jarabulus. Here is a timeline of events in Turkey's military operation, which was conducted to secure the Turkish-Syrian border and Syria's territorial integrity.
Aug. 16:
The secret service began bringing Syrian opposition fighters into Turkey from different sections in Syria. The opponents began to gather in groups at a Turkish military camp near the town of Karkemish, just opposite Jarabulus.
Aug. 20:
The governor's office in Gaziantep imposed a temporary security zone in an area of approximately 10 kilometers on the border with Syria. The decision was made just a day before Saturday's suicide bombing at an outdoor wedding party in Gaziantep that has left 52 dead and 94 others injured.
Aug. 21:
maroon berets seeped into Jarabulus, evaluated the potential targets and marked them with lasers.
Aug. 24:
At 2 am:
A reconnaissance battalion, members of special operation forces, entered Jarabulus to conduct ground reconnaissance on the eve of the military operation
At 4 am:
Turkish howitzers and multiple-launch rocket systems began pounding Daesh targets.
At 04:05:
Heavy construction equipment opened some passages at some pre-determined points for the mechanized forces' crossing into Syria
At 05:45:
The Turkish howitzer and rocket fire ended. A minimum of 70 Daesh targets were successfully eliminated and a total of 294 rounds were fired.
At 06:08:
Turkish F-16 fighter jets destroyed predetermined targets in Jarabulus. The military operation continued all day. Missile launchers and ammunition depot were destroyed.
At 07:50:
Turkish war planes destroyed 12 Daesh-held positions in Keklice village and Jarabulus town in Aleppo.
At 10:00:
Hundreds of opposition fighters, backed by Turkey's mechanized forces, crossed into Syria on their way to Daesh's stronghold in the country's north.
At 11:50:
Anti-tank mines, laid by Daesh terrorists, were successfully removed. Turkey-backed moderate opposition forces continued its eastward advance safely and captured the villages of Keklice, just five kilometers to central Jarabulus. Later, they captured Tel Shair, Alwaniyah and two more villages respectively. More than 100 terrorists were killed during the Jarabulus-bound march.
At 4 pm:
Syria's opposition fighters entered Jarabulus 12 hours after the military operation, which began early Wednesday.
At 7 pm:
The moderate groups ensured a firm control in Jarabulus. Each home in the town was carefully searched.
During the day-long operation, one opposition fighter was killed, while none of the Turkish soldiers fell martyr. Daesh were pulled back from Jarabulus and deployed in al-Bab town. Turkey's operation was a disappointment for Saleh Muslim, the PYD leader.
US-backed Syrian Democratic Forces (SDF), a coalition largely composing of PYD's armed wing YPG, said that it will cross back to the east of the Euphrates River. The bulk of the SDF were deployed in Munbij town after crossing west of Euphrates River, which Ankara has stated is its red line. US Vice President Joe Biden has confirmed PKK's Syrian off-shoot will withdraw back east of the Euphrates River.