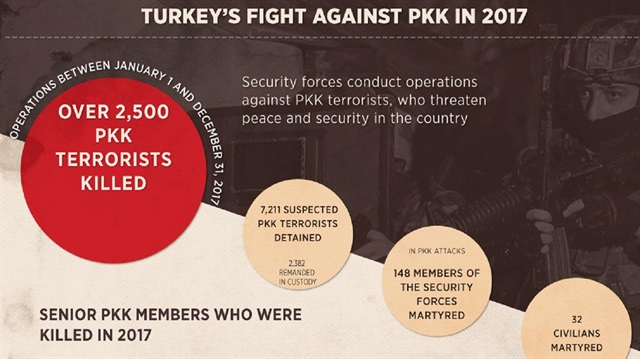 A total of 2,572 PKK terrorists were neutralized in anti-terror operations across Turkey in 2017, according to figures compiled by Anadolu Agency.
Conducted by the military, gendarmerie and police, the operations targeted the group which threatens peace and security in the country, and attacks not just security personnel but also civilians.
Last year, 148 members of the security forces were martyred in PKK attacks, which left 32 civilians, including babies, workers and teachers, dead and 59 others injured.
At least 300 security staff were given medical treatment following the terror attacks.
Turkish police detained a total of 7,211 suspected PKK terrorists and 2,382 of them, including the alleged head of finance, Murat Yılmaz, were remanded in custody.
Hülya Eroğlu, also known by her code name Gülbahar, was among the 31 terrorists killed during a counterterrorism operation in Bestler-Dereler region of the southeastern province of Şırnak.
At least 10 PKK terrorists were killed in March as part of anti-terror operations in eastern and southeastern Turkey. The operations were conducted in Genç district of Bingöl province and Lice district of Diyarbakır province.
Among the terrorists killed was Edip Yetut, code name Erhan Şişer, who was wanted by the security forces.
In April, Turkish Air Force jets killed a senior PKK member in northern Iraq. Sait Tanit, code-named Bedran Cudi, was killed during airstrikes in the Metina region. Tanit was on the Interior Ministry's most wanted terrorists list.
Senior figures of the terror organization -- including so-called Erzurum head Hamdusena Atala, code-named Rohat Ahmet, and Murat Dağ, code-named Ferhat Yılmaz, were killed during an operation.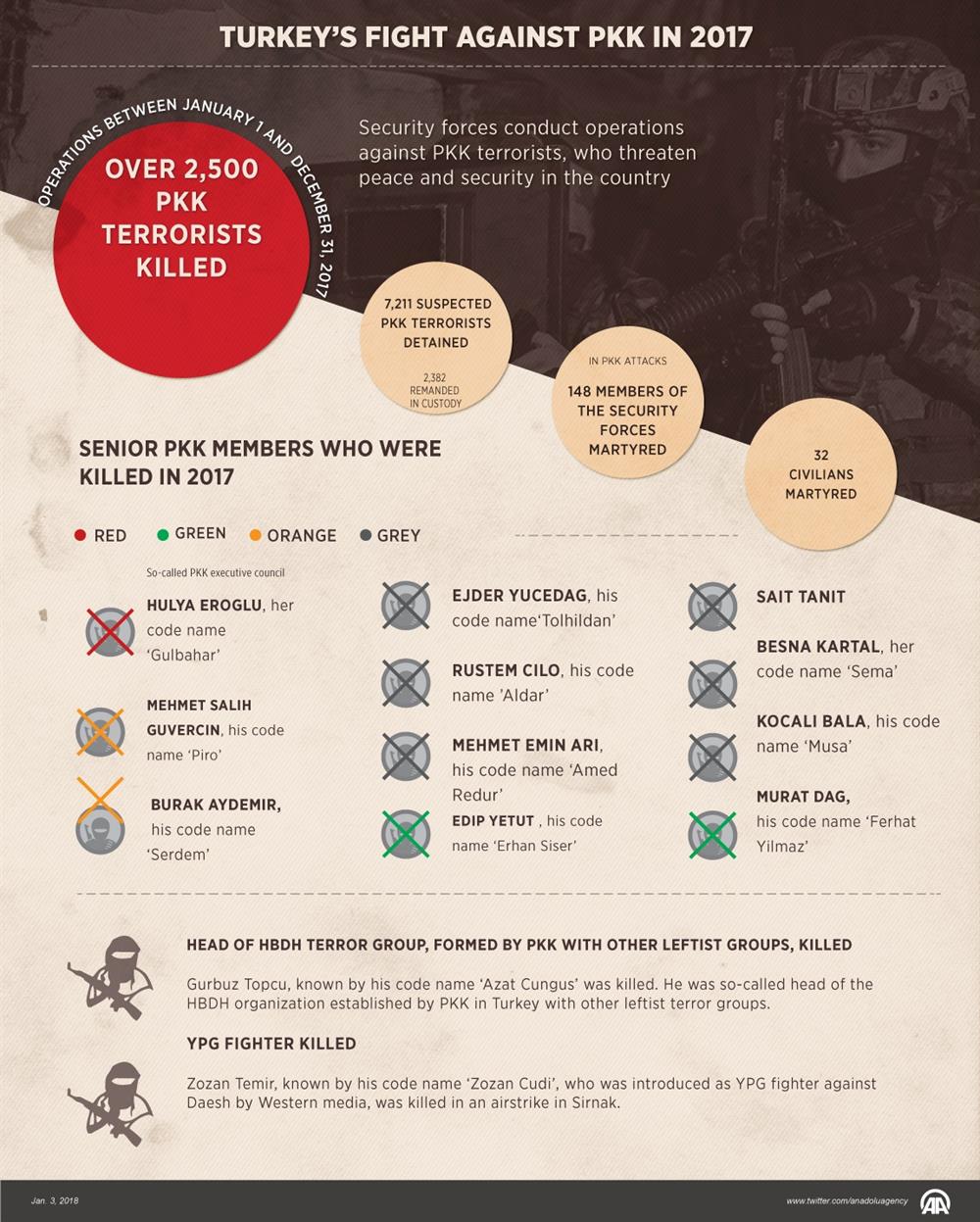 Winter operations
Despite harsh winter conditions, security forces continued to deal a heavy blow to PKK terror organization with operations held in the eastern and southeastern provinces, such as Hakkari, Mardin, Muş, Diyarbakır, Bitlis, Ağrı, Şırnak, Tunceli, Siirt, Batman and Bingöl.
Security forces also destroyed many shelters, caves and depots used by PKK terrorists.
Turkish Air Force jets also destroyed the shelters of the terrorists in an air operation in Metina, Zap, Avasin-Basyan and Gara regions of northern Iraq.
Terrorist attacks
The PKK terrorists carried an attack on Jan. 5 on a courthouse in Bayrakli district of the western province of İzmir. One police officer and a court staff were martyred and five others injured.
On Feb. 17, a child and a teen were killed and 15 others injured in a car bomb attack in the southeastern province of Şanlıurfa.
On Apr. 11, two civilian staff members and one police officer were martyred in an explosion in Diyarbakır's Bağlar district. The attack occurred at a vehicle depot belonging to security forces while an armored vehicle was undergoing repairs.
On May 5, two soldiers were martyred and 11 others wounded in a clash between PKK terrorists in Tendürek Mountain in the eastern province of Ağrı. Five terrorists were also neutralized.
On June 9, music teacher Şenay Aybüke Yalçın, 22, was killed in a PKK attack targeting the vehicle of mayor Veysi Işık. Yalcin was returning home from school in the Kozluk district of the southeastern province of Batman.
On June 30, ruling Justice and Development (AK) Party deputy head of Lice District in Diyarbakır, Orhan Mercan was shot dead by PKK terrorists in front of his house.
On July 1, a day after the attack on Mercan, Aydin Ahi, AK Party deputy head of Özalp District in the eastern province of Van, was shot dead by members of the terror organization.
On July 12, the burnt-out vehicle of 23-year-old elementary school teacher Necmettin Yılmaz was found, almost a month after Yılmaz was kidnapped by a group of PKK terrorists in Pulumur district of the eastern province of Tunceli on June 16. His body was recovered almost a month later near the Pulumur Stream.
On Aug. 11, 16-year-old Eren Bülbül was killed in a PKK attack in Maçka district of the northeastern Trabzon province, when he was showing a terrorist hideout to security forces. Sergeant Major Ferhat Gedik, 41, was injured in the same incident and later died.
On Aug. 31, security guard Mehmet Paksoy, who was an AK Party candidate for the mayor's office in Sirnak, was killed in a PKK attack in front of his house.
On Oct. 17, at least 12 policemen were wounded in a bomb attack targeting a police vehicle in the southern city of Mersin.
On Nov. 7, Lt. Mehmet Sakalli was martyred after being fired upon during an anti-terror operation in Van.
The PKK is listed as a terrorist organization by Turkey as well as the U.S. and EU. In its more than three-decade terror campaign against Turkey, more than 40,000 people have been killed.
Since the group resumed its armed campaign in July 2015, more than 1,200 people, including security force personnel and civilians, have lost their lives.