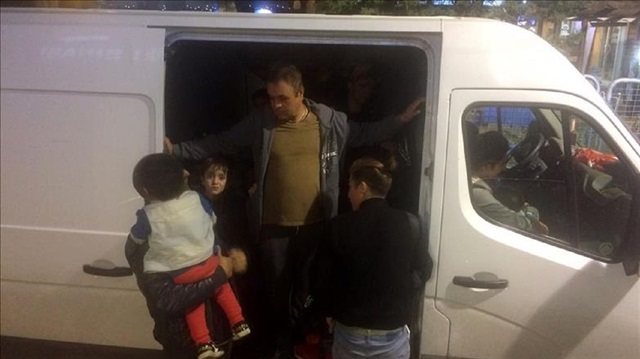 More than 340 migrants have been rounded up during separate anti-trafficking operations in Aegean province of İzmir and northwestern Edirne province on Monday, officials said.
In several districts of Edirne the gendarmerie held 233 migrants including nationals of Syria, China, Nepal, Palestine, Afghanistan, Iran, Iraq, Morocco, Pakistan, Myanmar, Nepal and Bangladesh, a security official, who asked not to be named due to restrictions on talking to the media, told Anadolu Agency.
The migrants were sent to the regional immigration department, the official added.
In Izmir province, more than 110 migrants were held in several districts, another security official told Anadolu Agency.
The gendarmerie found 35 Syrians in Cesme district as they attempted to cross into Greece. As many as 25 more Syrian nationals were also held in the district, the official said.
In Dikili district, the gendarmerie also held a group of 56 migrants, including 47 Syrians, 3 Cameroonians, 3 Eritreans, 2 from Togo and one from Ivory Coast.
The nine migrants from Cameroon, Eritrea, Togo and Ivory Coast were fined with 22,563 Turkish Lira and deported, while the Syrians were sent to the regional immigration department.
Turkey and the EU signed a refugee deal in March 2016, which aimed to discourage irregular migration through the Aegean Sea by taking stricter measures against human traffickers and improving the conditions of nearly three million Syrian refugees in Turkey.
Since then, the number of refugees caught crossing the Aegean Sea between Turkey and Greece has fallen by 85 percent, according to the Turkish Coast Guard.