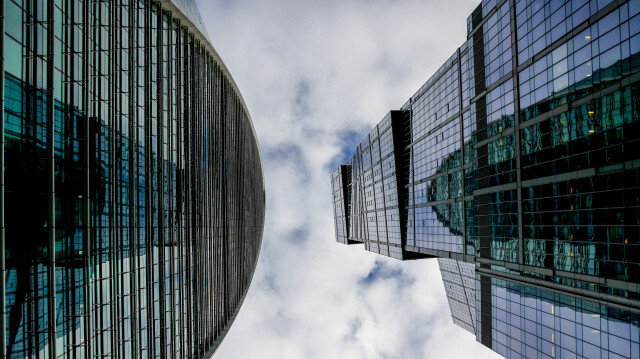 About two-thirds of more than 1,500 international companies curtailed their operations, while 555 run businesses partly or as usual in Russia since it launched a war on Ukraine.
In a list of 1,500 companies, the Yale School of Management has revealed those withdrawing from Russia or maintaining business in the country.
The list is broken down into five categories, withdrawal, suspension, scaling back, buying time (holding off new investments/developments), and digging in (defying demands for exit).
Some 28 companies from Germany, 26 from the US, 25 from France, 12 from Italy, eight from Austria, five from the UK, five from Spain and three from Switzerland continue operating in Russia as usual despite the sanctions of Western countries.
There are 46 companies from the US, 20 companies from Germany, 12 companies from France, nine companies from Italy, seven companies from Austria, nine companies from England and nine companies from Switzerland, among those who "buy time" by delaying their future growth plans in Russia.
56 US, 19 German, 10 Swiss, 6 French, 5 Italian, 4 British and 2 Austrian companies are among those that continue to operate some business lines in Russia.
According to reports in the Russian media, the profits of the top 100 Western companies remaining in Russia in 2022 grew by 54% year-on-year, reaching 1.1 trillion rubles ($13.2 billion).
These companies paid corporate tax of nearly 288 billion rubles ($3.5 billion) in 2022.
Tax revenues obtained by Moscow from the top 100 Western companies make up 1% of Russia's budget revenues, with the largest foreign corporate taxpayers being US, UK and French companies paying 40 billion rubles ($475 million), 47 billion rubles ($559 million) and 55 billion rubles ($654.5 million), respectively.
Companies that generated considerable profits last year include French energy company Total Energies, Austrian Raiffeisen Bank and British oil company BP.
- Chinese and Indian companies have less presence than US companies
Apart from Western companies, some 42 companies from China are in the category of those who carry out their business as usual, four companies are in the D category and one company is in the C category.
While 13 companies from India continue their activities in Russia as usual, 2 companies headquartered in India are on the "time buyers" list and one company maintains a part of the business line.
Some 13 companies from Japan continue their business in Russia as usual, ten companies postponed their future investments and five companies are on the C list.
Jeff Sonnenfeld, Yale School of Management senior associate dean for leadership studies, told Anadolu how the study came up with five-point grading rubrics from A to F.
"There were well over 1000 F's and the companies didn't want to be seen they're in the spotlight, the sunlight, the daylight on people's actual positions. And they're very thoroughly researched. We heard from so many lawyers and companies that didn't like the transparency," Sonnenfeld explained.
He stressed that over 1,000 companies have completely pulled out of Russia, adding:
"Then there are about 150 that are in the middle that they want it both ways, that they have they are still keeping a foot in Russia. And then of those who are the F's that are still staying, there are 227 of those. And 177 are G's. So sadly, we have almost 400 companies that are still doing significant business with Russia's significant multinational companies, and it is across geography, is across the industry."
Sonnenfeld underlined that large-scale companies' from non-western countries such as Japan, China and India pulling out of Russia was "astounding."
Some 25-30% of Russia's GDP has been badly damaged by the exit of these companies, he noted, adding:
"And we learned that 60 to 95% of the economy has been shuttered. Depending on what sector you look at, the automotive industry is at least 95% shuttered," as they were providing the critical supply chain materials to the industry.
"There's nothing Russia brings to the world marketplace that the world needs, as it turns out."
He noted that the Russian economy stays alive thanks to its state-controlled economic structure.
#
Yale School of Management
6 ay önce