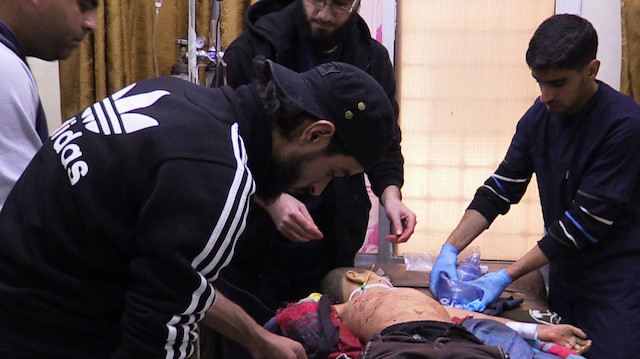 A total of 6,964 civilians were killed in Syria in 2018, a rights group said.
In a report released on Jan. 12, the London-based Syrian Network for Human Rights (SNHR) said Bashar al-Assad regime forces were responsible for 4,162 of these civilian deaths, including 713 children and 562 women.
The report noted that 467 civilians were killed by Russian forces while the U.S.-led international coalition forces killed 417 civilians.
In addition, 446 civilians were killed in the attacks carried out by Daesh terrorist group, while 80 civilians were killed by YPG/PKK terror group.
At least, 7,706 cases of arbitrary arrests were documented in the country, the report said.
As many as 24 media workers were killed, 28 others injured and 31 were arrested or kidnapped, it said, adding 91 medical, civil defense and the Red Crescent's personnel were killed, while 198 attacks were carried out on their related facilities.
Assad regime was reported to hit Syrians with chemical weapons for six times and it dropped at least 3,601 barrel bombs in different regions of the country in 2018.
The report said at least 223 massacres of an ethnic and sectarian nature were perpetrated by the parties to the conflict.
It also noted that 976 individuals died due to torture.
The report also sheds light on some indications of coordination between Assad regime and Daesh terror group prior to attacks on Suwayda governorate that killed at least 154 people, including 15 children and 19 women.
Syria has only just begun to emerge from a devastating conflict that began in 2011 when the Bashar al-Assad regime cracked down on demonstrators with unexpected ferocity.