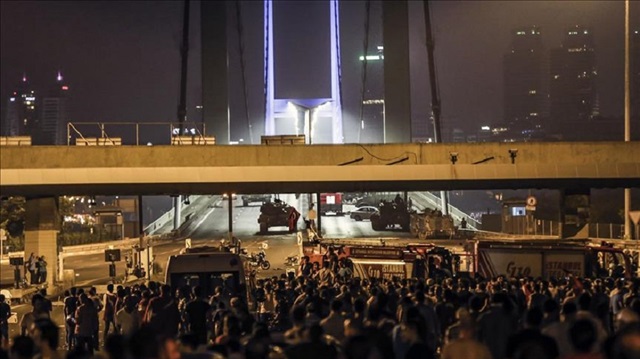 A Turkish court sentenced 84 defendants to life in prison on Thursday for their roles in clashes on the July 15 Martyrs' Bridge in Istanbul in which 34 people were martyred during an attempted coup two years ago.
A total of 133 suspects remanded in custody were at Thursday's hearing at Istanbul's 25th Criminal Court, according to judicial sources who spoke on condition of anonymity due to restrictions on talking to the media.
During the hearing, 72 out of the suspects got aggravated life sentences for trying to overthrow the constitutional order, while 12 others got the same sentence for the murder of Erol Olçok and his son.
The remaining suspects were sentenced to jail terms of 15-17 years.
The night of the coup bid by the Fetullah Terrorist Organization (FETÖ), 34 people were martyred on the July 15 Martyrs' Bridge (then called the Bosphorus Bridge) including prominent advertiser Erol Olçok and his son Abdullah Tayyip Olçok.
All but two of the martyrs were civilians; the remaining two were police officers.
The July 15 Martyrs' Bridge was closed during the night of the coup bid by soldiers around 10.00 p.m. local time (1900GMT).
FETÖ, led by U.S.-based Fetullah Gülen, orchestrated the defeated coup, which left at least 250 people martyred and around 2,200 others wounded.
The government also says FETÖ is behind a long-running campaign to overthrow the state through the infiltration of Turkish institutions, particularly the military, police, and judiciary.