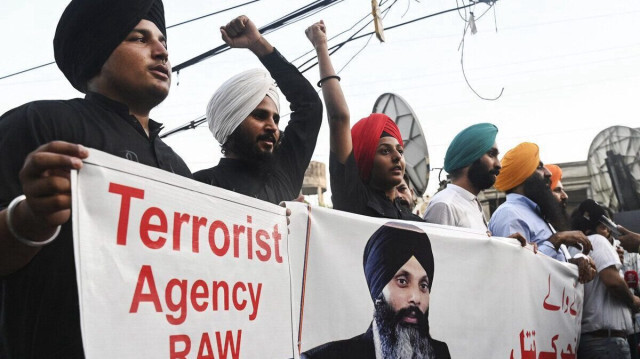 Pakistan premier urges alliance against India following Sikh leader's murder in Canada
Pakistan caretaker Prime Minister Anwaar-ul-Haq Kakar encouraged the forming of an alliance against India following Canada's allegations that New Delhi was involved in the killing of one of its citizens.
Kakar said at a news conference Friday in New York that his country has been a victim of "state-sponsored terrorism" and it shared evidence at different global forums about the role of the Indian state.
"It might be the first of its kind event probably after the First World War that an Asian country staged a physical murder on the European soil and its impacts were being felt across the Western countries who now realize how India was persecuting its minorities like Christians, Sikhs and Muslims," state-run Associated Press of Pakistan quoted Kakar.
He said the murder of a Sikh leader in Canada jolted the West and India's involvement raised serious questions.
Kakar said an alliance should be formed to check the "rough behavior" of India.
Relations between Canada and India hit rock bottom after Canadian Prime Minister Justin Trudeau asserted that India had a hand in the killing of Canadian Sikh leader Hardeep Singh Nijjar in Canada -- a claim New Delhi denies.
The row concerns the June 18 murder of Nijjar, who was gunned down in front of a Sikh temple in Surrey in the Canadian West Coast province of British Columbia. No arrests have been made.
New Delhi considered Nijjar a terrorist as he was a vocal supporter of a break-away independent Khalistani state in the Punjab region. His supporters reject the terrorist label. India has dismissed the claims of responsibility as "absurd."
Trudeau made the charge Monday as he told parliament that there was "credible" evidence that India was complicit in the murder. The following day, he urged New Delhi to take the allegation "seriously."
India's Ministry of External Affairs rejected the claims as "unsubstantiated allegations."
India temporarily suspended it visa service in Canada on Thursday and said it is "temporarily unable to process visa applications" in Canada because of "security threats" faced by its missions in Canada.
#
Prime Minister Anwaarul Haq Kakar
2 months ago