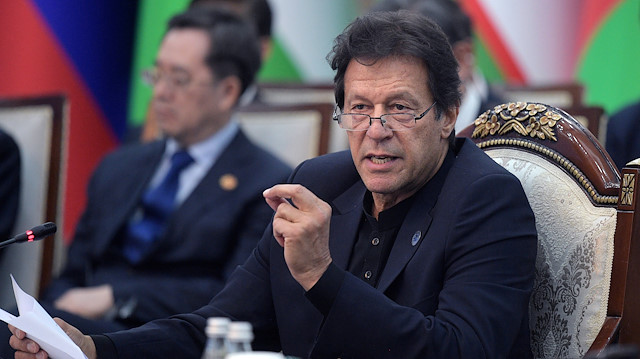 Pakistan's Prime Minister Imran Khan
Pakistani Prime Minister Imran Khan said Tuesday he will meet with the Taliban when he returns to the region in a bid to end Afghanistan's nearly two-decade conflict.
Khan said he rejected a previous offer to meet with the hardline group at the behest of Afghan President Ashraf Ghani whose government is locked in a conflict with the insurgent group.
"When I go back, after meeting President Trump and also I've spoken to President Ghani, now I will meet the Taliban and I will try my best to get them to talk to the Afghan government," Khan said while delivering remarks at a Washington think tank.
Khan is in Washington for his first visit to the U.S. since becoming prime minister in August 2018.
The Taliban has ruled out direct negotiations with the Afghan government, but has engaged in talks with the U.S. focused on ending the war in the Central Asian country and the withdrawal of U.S. forces.
Khan maintained that future Afghan elections must be "inclusive," and that the Taliban must be allowed to participate.
U.S. President Donald Trump has long criticized the continued deployment of U.S. forces to Afghanistan, and said Monday while meeting Khan at the White House that their presence of after 18 years in the country is "ridiculous."
The U.S. has roughly 14,000 troops deployed to Afghanistan amid Trump's push to wind down their presence in tandem with ongoing peace talks with the Taliban.
Khan reiterated his view during his remarks on Tuesday that the current moment presents the "best chance" for an Afghan peace.
Turning to relations with India, Khan said the biggest problem faced by the countries is poverty, stressing the "best way we can reduce poverty is if we start trading with each other."
4 yıl önce