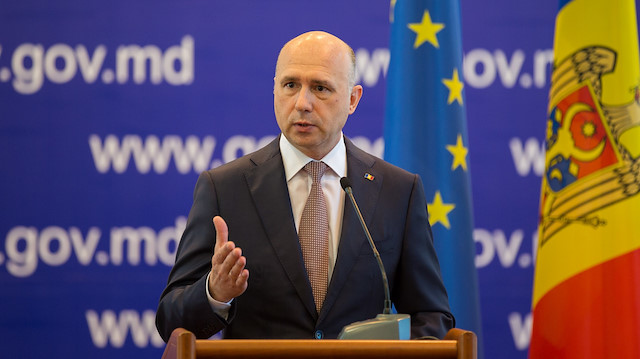 Moldovan Prime Minister Pavel Filip
The Palestinian Foreign Ministry on Wednesday condemned the decision by Moldovan Prime Minister Pavel Filip, to shift his country's embassy from Tel Aviv to Jerusalem.
"The decision is a flagrant violation of international law, international legitimacy and the UN resolutions," the ministry said in a statement.
The landlocked Moldova, bordering Romania and Ukraine become the first European country to transfer its embassy to Jerusalem.
Palestinian Foreign Ministry said the Moldovan PM was trading his country's position to both the U.S. and Israel. The statement was referring to a constitutional crisis and power struggle in the tiny European country that ended last week with a constitutional court's suspension of the country's elected president, Igor Dodon.
The statement added that Filip is "taking advantage of political uncertainty in his country to gain support from the U.S and Israeli."
Moldova is Europe's poorest country, which was without a government since elections were held in February. Last week the pro-EU and the pro-Moscow blocs managed to form a coalition government, in an apparent move to bring down an oligarchy, led by the former ruling Democratic Party.
Israel has been trying to convince nations to transfer their missions from Tel Aviv to Jerusalem. So far, the U.S. and Guatemala have o moved their embassies.
Jerusalem remains at the heart of the perennial Mideast conflict, with Palestinians hoping East Jerusalem -- occupied by Israel since 1967 -- might eventually serve as the capital of an independent Palestinian state.
#
Moldovan Prime Minister Pavel Filip
#
Palestinian Foreign Ministry
4 years ago