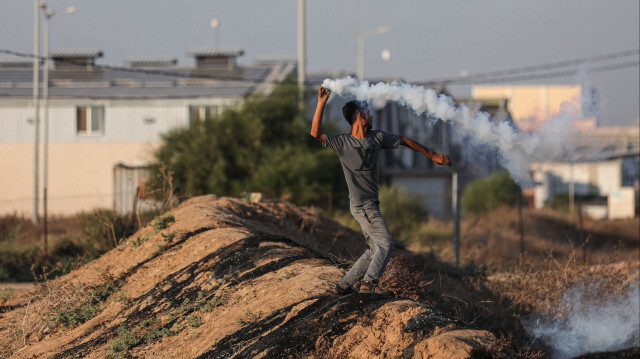 Palestinians continued their protests near a border fence with Israel for the 9th consecutive day on Tuesday to decry Israeli settler incursions into the Al-Aqsa Mosque complex in occupied East Jerusalem.
Protesters waved Palestinian flags and set tires ablaze amid chants condemning settler raids into the flashpoint site, according to an Anadolu reporter.
"We must live freely in Gaza like all other peoples around the world," a protester who gave his name as Youssef told Anadolu.
"The [Israeli] occupation will pay the price for its blockade on Gaza and for incursions into Al-Aqsa Mosque," he added.Scores of Israeli settlers forced their way into the Al-Aqsa complex under police protection on Monday to celebrate Yom Kippur holiday, the holiest day in the Jewish calendar.
For Muslims, Al-Aqsa represents the world's third-holiest site. Jews, for their part, call the area the Temple Mount, saying it was the site of two ancient Jewish temples.
Since 2007, the Gaza Strip has groaned under a crippling Israeli blockade that has deprived its roughly 2.3 million inhabitants of many vital commodities, including food, fuel and medicine.
2 months ago