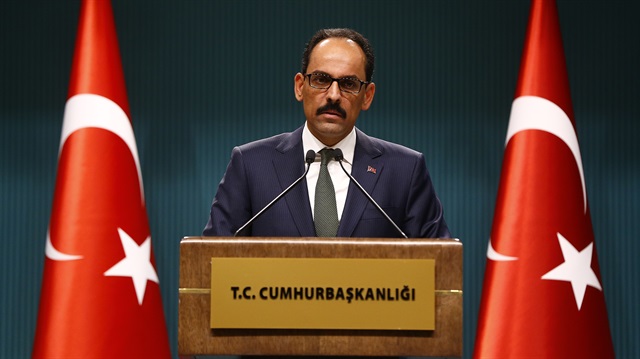 Presidential Spokesman İbrahim Kalın said on Tuesday that Turkey's National Security Council (NSC) will discuss the Pentagon's statement regarding the continuing U.S. support of the People's Protection Units (YPG).
The NSC will meet on Tuesday to conduct its final extraordinary meeting for 2017. It will be held at the Presidential Palace Complex in the capital, and will be headed by President Recep Tayyip Erdoğan.
"The NSC meeting will evaluate the Pentagon's YPG announcement, Turkey's fight against terror, and the terror threat in north Iraq and developments in Iraq following measures against Barzani's referendum. The final phase of the fight against the Fetullah Terrorist Organization (FETÖ), ongoing work and strategic operations being carried out to bring terrorist elements from abroad to Turkey are also among the topics to be discussed. The meeting will also focus on efforts to identify and meet the security forces' needs," said Kalın.
The YPG is the military wing of the Kurdistan Workers' Party (PKK)-affiliated Democratic Union Party (PYD), and dominates the SDF. While recognizing the PKK as a terrorist group, the U.S. has treated the PKK/PYD/YPG as an ally using Daesh as a pretext, despite its PKK ties as documented by Turkey.
In a Friday phone call with Turkish President Recep Tayyip Erdogan, Trump "clearly stated that weapons will not be given to the YPG anymore and said that essentially this nonsense should have been ended before," Turkish Foreign Minister Mevlüt Çavuşoğlu said on Friday.
However, on Monday a Pentagon spokesman stated that arms support would continue.
"Weapons provided to the Syrian Democratic Forces, which include Kurdish elements of the SDF, would be limited, mission specific, and provided incrementally to achieve our objectives," Col. Manning said.
The NSC, under the chairmanship of the president, is composed of the prime minister, the commander of the Turkish Armed Forces, deputy prime ministers, the ministers of Justice, national defense, the interior and foreign affairs, the commanders of the Land, Naval and Air Forces and the general commander of the Gendarmerie.