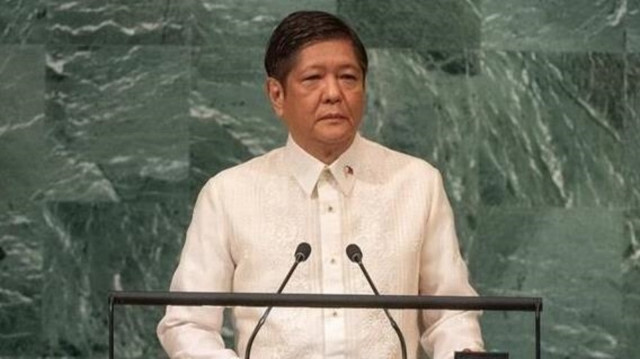 Philippines President Ferdinand Marcos Jr.
Upping the ante in tensions with Beijing, Philippines President Ferdinand Marcos Jr. said Wednesday he will end any agreement with China on a rusting warship in the disputed South China Sea.
"I'm not aware of any such arrangement or agreement that the Philippines will remove from its own territory its ship, in this case, the BRP Sierra Madre from the Ayungin Shoal," Marcos said in a video release, shared by Jay Tarriela, a Philippines coast guard officer.
He was responding to claims by Beijing that Manila had promised in the past to remove a grounded warship from a reef in the disputed Spratly Islands. Second Thomas Shoal, also known as Ayungin Shoal, is an atoll on the islands.
"Let me go further, if there does exist such an agreement, I rescind that agreement now," Marcos said.
The claim was made by Beijing after the Chinese coast guard fired water cannon at Filipino vessels last Saturday when they were on their way to the grounded ship, reportedly for supplies.
Manila grounded the Second World War-era warship in 1999 to reinforce the Philippines' sovereignty claims.
While Beijing has justified its actions by arguing that Filipino vessels did not heed warnings, Manila has got support from several Western nations, including the US.
Bilateral relations between Beijing and Manila have spiraled down, primarily because of disputed maritime claims in the South China Sea.
Manila under Marcos since last year has been leaning towards the US, making more military bases accessible to American troops.
The US and the Philippines are also mulling joint patrols in the disputed waters later this year amid a growing economic partnership.
Washington has threatened to intervene under US-Philippines mutual defense treaty in case Filipino forces come under armed attack from any side.
Beijing, however, has pushed back, asking the US to "not sow" tensions in the region.
#
President Ferdinand Marcos Jr.
قبل٪ s