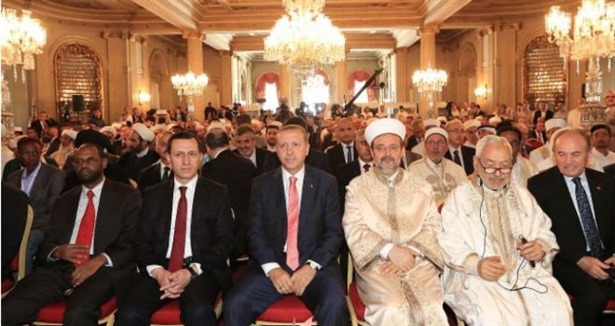 PM Erdoğan calls on Islamic scholars for regional
Prime Minister and presidential candidate Recep Tayyip Erdogan spoke at a conference held by International Union of Muslim Scholars on peace and commonsense in Istanbul.
criticizing the silence of international public,"Some Islamic countries are content with what happens in Palestine today. Because if that is not the case, they will find themselves involved in the matter," he said.
Erdogan highlighted the importance of Islamic scholars' stance on the regional matter and said "Islamic scholars must be on the side of God, not the US dollar, but unfortunately we witnessed many cases just the opposite in the past."
PM also touched on to the sectarian conflict and warned both sects, the Shia and Sunni, on the possible future conflicts. Erdogan referred to the importance of Prophet's grandsons, whose tomb has been a main target for the Islamic State of Iraq and Levand, or ISIL militants in Iraq, for the Islamic world.
About the ongoing unrest in Palestine, Erdogan said: "What happens in Palestine is not Shias vs. Sunnis; that is why the Islamic world keeps silent. Our children and brothers die in Palestine. Humanity has been destroyed there, as well as the honour of Muslims."
9 years ago