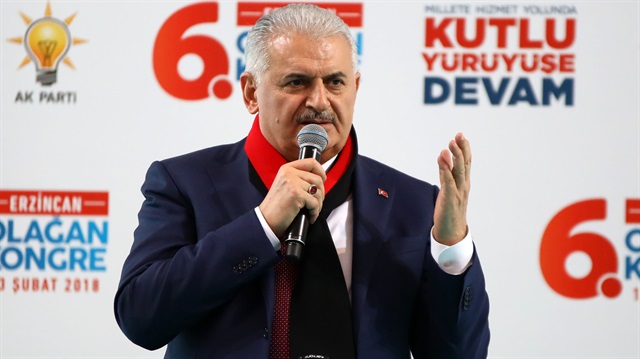 Any attempts to found a state along Turkey's borders will end in failure, said Turkey's prime minister on Tuesday.
Turkey will eliminate all threats along its borders "wherever they come from," Binali Yıldırım told the ruling Justice and Development (AK) Party Provincial Congress in the eastern Erzincan province.
"Those who want to found a state along our borders will be disappointed," he said.
Yıldırım slammed the U.S. administration for continuing to supply weapons to terrorists from the Kurdistan Workers' Party (PKK)'s Syrian offshoot, the PYD, after Daesh's defeat.
Speaking at a congress for the ruling Justice and "They [The U.S.] say that our ties to terror organizations in Syria is not a choice but that it is out of necessity. Now Daesh is defeated. Why do you keep sending more weapons?" said Yıldırım.
Yıldırım stressed that Turkey's ongoing operation in Afrin to secure its borders is "one and the same as the fight for independence in Çanakkale a century ago," and the resistance against July 15 coup plotters.
"What we've gone through shows that it could be your turn tomorrow. America; what is your goal in cooperating with terror organizations? You still have time to turn back from this path. Stop assisting those oppressors, stop arming them; collect those weapons you sent them," said Yıldırım.
"They asked us why we took in Syria's oppressed. The foundation of our beliefs is that God is merciful on those who show mercy to the oppressed," continued Yıldırım.
Since July 2015, the PKK -- recognized as a terrorist group by the U.S., the EU, and Turkey -- has taken some 1,200 lives in Turkey, including security forces, women, and children.
Yildirim told ruling party members that Turkey would defend its territories "at all costs."
"We have no designs on anyone's territory, but we will not bow to anyone's tyranny."
Turkey launched Operation Olive Branch on Jan. 20 in Syria's Afrin to establish security and stability, eliminate PKK/KCK/PYD-YPG and Daesh terrorists, and save locals from their oppression and cruelty.