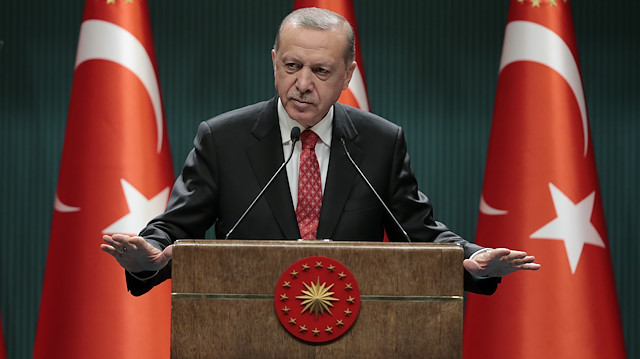 President of Turkey Recep Tayyip Erdoğan
The Turkish president on Tuesday reiterated his country's support for the Libyan government in its fight against renegade Gen. Khalifa Haftar.
The descendants of Libya's anti-colonial hero "Lion of the Desert" Omar Mukhtar defeated at the gates of Tripoli "legionaries" sent from all over the world by "those would try to occupy" the country, Recep Tayyip Erdogan told a press conference following a roughly three-hour Cabinet meeting in the capital Ankara.
"We will stand next to our Libyan brothers, not the putschists, not the imperialists," Erdogan said, referring to Haftar and his supporters.
Erdogan underlined that in the coming period, Ankara would "continue to frustrate both domestic and foreign coup enthusiasts and lovers of terrorist organizations."
Following the ouster of leader Muammar Gaddafi in 2011, Libya's new government was founded in 2015 under a political deal led by the UN.
The government and western parts of the country have been under attack by Haftar's forces since April 2019, with over 1,000 killed.
-Turkey further eases COVID-19 restrictions
Erdogan also announced further easing on restrictions the country had previously introduced to curb the spread of the novel coronavirus.
"We must get used to the fact that a new period which we call the new normal will continue for a while," said Erdogan.
Erdogan announced that cinemas, theaters and performance centers would be reopened as of July 1 across the country.
He added that the closing hours of venues like restaurants and cafes had been extended from 10.00 p.m. to midnight, with wedding halls to resume services starting June 15.
Also, people aged 65 and over will now be allowed to go out between 10.00 a.m. and 8.00 p.m. every day, with restrictions for young people under 18 completely lifted on condition that they are accompanied by their parents.
Erdogan announced that Turkish scientists successfully produced the drug Favipiravir, which is used in treating COVID-19.
On June 1, Turkey announced the beginning of its first phase of easing restrictions as the country made advances in its fight against the pandemic.
On Tuesday, Turkey confirmed 172,114 cases, while recoveries neared 144,600. The virus has killed 4,729 people so far, according to Health Ministry data.
3 yıl önce