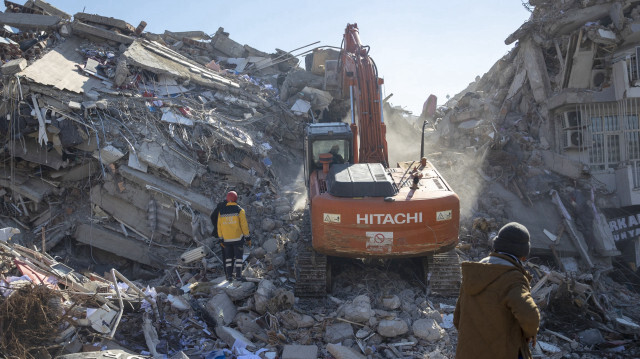 Monday's deadly earthquakes in southern Türkiye, which hit 10 provinces, were quite severe due to their close proximity to the surface and the type of fault, according to prominent US seismologists.
Seismologist Lucy Jones, also known as "the earthquake lady," and Clark Alexander, director of the University of Georgia's Skidaway Institute of Oceanography, spoke to Anadolu about the magnitude 7.7 and 7.6 earthquakes which hit Kahramanmaras, southern Türkiye on Monday, affecting over 13 million people.
Noting that the Eastern Anatolian Fault is a "strike-slip" vertical fault, very similar to the well-known San Andreas Fault in California, US, Jones said: "That means that the shaking is being released very, very close to people right up close to the Earth's surface. And it means that people are located much closer to the source of the shaking than in many other types of earthquakes. And therefore right along the fault, you can see really extremely high levels of shaking."
Jones said that she believes that Monday's second major earthquake, which measured magnitude 7.6 and came hours after the first, at magnitude 7.7, was not unusual, adding that the way aftershocks in similar situations can be larger than the main shock is part of the same distribution and that "it really is the way these big faults move."
On the lack of depth of the first quake, Jones said: "It began at a depth of about 17 kilometers (10.5 miles), but it ruptured up towards the surface. So you don't really think of it as being at 17 kilometers. It's on the whole surface between there on the surface of the Earth. This is considered a shallow earthquake."
-'Turkey follows same building code as California'
She said 7.8 magnitude earthquakes typically happen worldwide once or twice a year, but they usually take place in deep layers or in remote areas where they affect few people.
Underlining that people living close to major fault lines can cause great destruction in earthquakes, she added: "Turkey follows the International Building Code just like California does, and has excellent engineers. I've worked with them here in the United States. They're very much an integral part of the international earthquake engineering community.
"So it's not that Turkey has different codes or different engineers than we do here in the United States. However, having a great design doesn't mean you have a great building. There's several reasons that the buildings might not be what you want it to be."
She added that she thinks the earthquakes in Kahramanmaras have a very low risk of causing severe earthquakes along other fault lines.
Marine geologist Clark Alexander said though he teaches in the U.S. state of Georgia, he is originally from California so he is quite familiar with large earthquakes along strike slip fault zones.
On Türkiye's East Anatolian Fault, Alexander said: "These tectonic forces have been active for millions of years. And so these fault systems have existed and have probably been producing earthquakes over those same kinds of time periods."
On Monday's biggest quake, he said: "If you compare it to other earthquakes in other places around the globe, it is large, but it's certainly not unique in its magnitude."
Underlining the need to pay attention to new building standards that are more resistant to such quakes, Alexander said: "We need to prepare ourselves because we know there will be other events in the future. We can't predict when, but we can make a lot of progress to making these events survivable."
2 ay önce