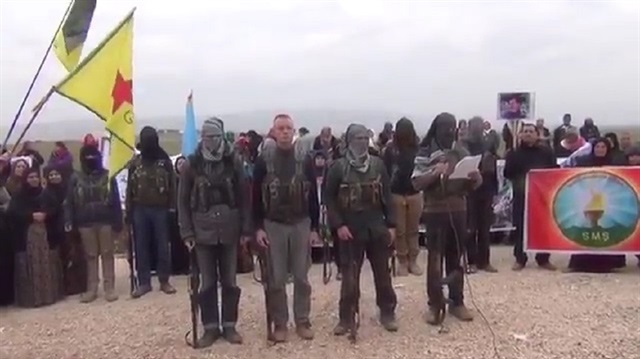 The terrorists of the Democratic Union Party (PYD), the Syrian affiliate of the Kurdistan Workers' Party (PKK) were discovered to be calling for Westerners to conduct terrorist attacks against Turkish institutions worldwide through a video uploaded to YouTube.
"Attack the institutions of the Turkish state all over the world. Come to Kurdistan and join the forces of the YPG (People's Protection Units), YPS (armed wing of the YPG in Turkey) and the guerrillas," said the man in the video.
This declaration was interpreted as the attempts of the YPG to recruit foreign members after the numbers of the Kurdish members of the Kurdistan Workers' Party were decreased rapidly following counterterrorism operations of Turkey, according the website of Haber10.
The number of non-Kurdish members increased in the PKK and the affiliated organizations, as confirmed by the killings of a number of foreign terrorists such as Kevin Joachim, who was killed during Turkish airstrikes against Qandil, or Erik Scurfield, buried with a YPG flag in England after being killed in March of last year.
Also, 'Welat' code-named Venezuelan citizen, 'Argeş' code-named Spanish citizen and American citizen 'Dilşad' were among those who joined the PKK-YPG.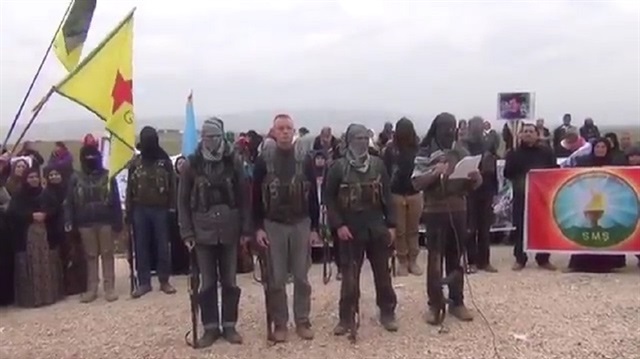 'Hevi Piling' code-named Canadian model Tiger Sun and Israeli citizen Gillian Rosenberg are some of the people known for their support and admiration of the YPJ, the women's branch of the YPG.
The video emerges after a terrorist attack that left 28 people dead and 61 others injured when a bomb-laden car was detonated when military buses stopped at a red light near the armed forces' headquarters.
Turkish Prime Minister Ahmet Davutoğlu stated that the attack was carried out by the YPG terrorist organization despite the group's denial of a role in the attack.
Ankara says that PYD is affiliated with the PKK terrorist group, while Washington supports YPG.
Also, Russia is known to have been providing guns to the terrorist group for a long time as a part of its efforts to support the regime of Syrian President Bashar al-Assad and its so-called fight against Daesh terrorist organization.