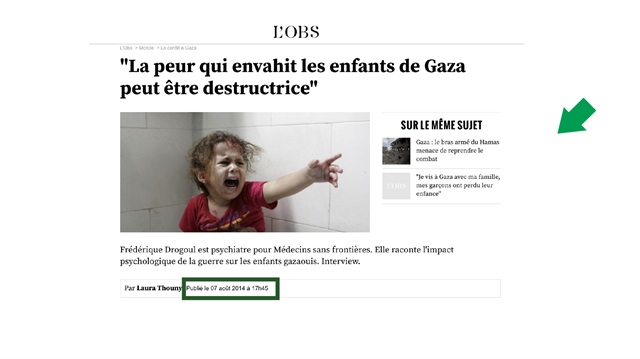 PYD/PKK uses Gazan girl image to smear Afrin operation
Supporters of the PYD/PKK terror group in Germany have used an image of a girl from Gaza to mislead people into thinking that the photograph is from Syria's northwestern Afrin region where Turkey has launched a military operation.
The image was used on placards at rallies that promoted terrorism and the terror group in Cologne last Saturday. However, the image is actually of a Gazan child taken on Aug. 7, 2014.
The latest smear campaign against Turkey's Operation Olive Branch has revealed two other fake photos being used to provoke the public.
One of the photographs show a crying child with the false label "Stop massacre in Afrin"; this picture was in fact taken in Syria's Aleppo province and used on a website on May 5, 2016.
Another photo that has gone viral is circulating under the false tag "Dead bodies of Turkish soldiers"; this picture was identified as an image from Daesh's siege of Kobani in 2014.
Previously, in another blatant piece of disinformation, a photo wrongly labeled "Turkish Armed Forces targeting civilians" turned out to be the aftermath of a PYD/PKK terror attack on two hospitals on Jan. 19 in Aleppo's Azaz district bordering Turkey.
Another picture of an injured child on Twitter calls for "Save the children in Afrin," but in truth the picture was taken on Dec. 18, 2015, at a field hospital in Syria while another photo shared on social media implied that children were being killed in Afrin, but the picture was taken in Nov. 2010 in Palestine's Gaza Strip.
Earlier, pro-PYD/PKK accounts posted another photo -- the winner of the 2016 Anadolu Agency Istanbul Photo Awards -- misrepresenting it as a recent picture from Afrin. In fact, the photo showed a child who was injured in Aleppo, Syria, some two years back.
Another photo posted on Twitter claimed to show "Turkish soldiers taken hostage in Afrin," but was actually a March 2014 Anadolu Agency photo showing 20 soldiers who had been executed by the Daesh terror group in Iraq.
The pictures on pro-PYD/PKK social media accounts are repeatedly turning out to be photos from several years ago and thousands of miles away from the location they claim to have been taken in.
All these photographs preceded Operation Olive Branch and are completely unrelated.
After Anadolu Agency reported on them, some of the accounts posting such fake news and images were shut down.
On Jan. 20, the Turkish army launched Operation Olive Branch to remove PYD/PKK and Daesh terrorists from Afrin. According to the Turkish General Staff, the operation aims to establish security and stability along Turkey's borders and the region as well as protect Syrians from terrorist oppression and cruelty.
The operation is being carried out under the framework of Turkey's rights based on international law, UN Security Council resolutions, its self-defense rights under the UN Charter, and respect for Syria's territorial integrity.
The military has said only terror targets are being destroyed and "utmost care" is being taken to avoid harming civilians.
6 yıl önce