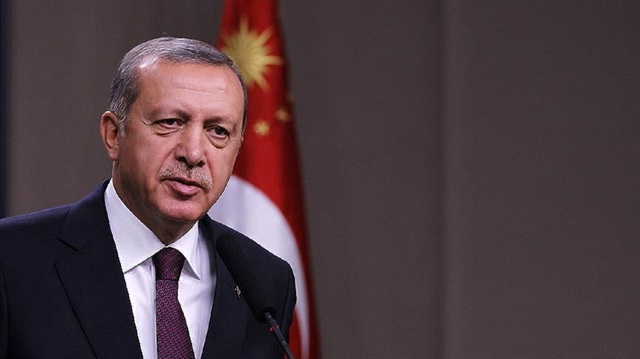 Qatar's envoy to Turkey has underlined the importance of Turkish President Recep Tayyip Erdoğan's visit to Qatar on Tuesday.
"We believe that high-level diplomatic visits between Qatar and Turkey are very important and necessary," ambassador Salem bin Mubarak Al Shafi told Anadolu Agency in an interview.
"Such visits maintain the momentum in bilateral relations and help better consult and coordinate on swift changes and regional and international issues," he added.
Erdoğan is scheduled to arrive in Qatar on Tuesday as part of a regional tour that already took him to Kuwait.
"We are satisfied with the level of our relations, especially that relations have overcome very difficult tests during the past two days," the Qatari envoy said.
He said talks between Erdoğan and Qatari leaders are expected to tackle all important issues.
"The visit will undoubtedly dwell on the Gulf crisis and ongoing mediation efforts," Al Shafi said.
In June, Saudi Arabia, the United Arab Emirates, Egypt and Bahrain all abruptly cut diplomatic and commercial ties with Qatar, accusing it of supporting terrorist groups in the region.
The four states have also threatened Qatar with additional sanctions if Doha failed to meet a long list of demands, including one for the closure of Qatari news broadcaster Al Jazeera.
Qatar, however, has so far refused to comply, vociferously denying the accusations against it and describing Saudi-led attempts to isolate it as a breach of international law and its own national sovereignty.
Turkish mediation
The Qatari diplomat hailed Turkish mediation efforts to resolve the Gulf crisis.
"We highly appreciate the Turkish role and efforts by Turkish officials to resolve the crisis," he said.
Al Shafi also thanked Ankara for its support for Kuwaiti mediation to reach a solution to the crisis. "We know that mediation is not an easy thing since there are parties that oppose the Turkish role and others who want it to fail," he said.
"We thank the Turkish people for their honorable position during the crisis and for their solidarity," Al Shafi said.
The Qatari diplomat underlined his country's readiness to sit to the negotiating table with the blockade states for talks on all outstanding issues.
"But our sovereignty and security are a red line that cannot be compromised or abandoned," he said.
As for economic ties between Doha and Ankara, the Qatari ambassador said that a deal was in final stages to establish a trade line between Qatar, Turkey and Iran.