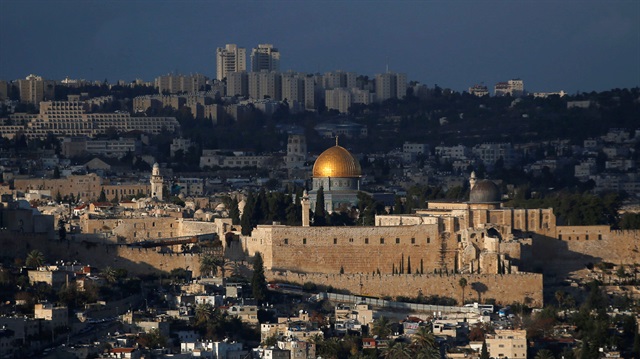 U.S. President Donald Trump's decision to recognize Jerusalem as Israel's capital drew reaction from Arab countries of Qatar, Lebanon and Egypt, on late Wednesday.
Qatari Foreign Minister Sheikh Mohammad bin Abdurrahman Al-Sani called the decision a 'death sentence for peace'.
Speaking to Doha-based Al Jazeera television, Al-Sani said that this incident, which means a serious tension raise in the Palestinian cause, concerns not only the Palestinian people but all Arabs and Muslims.
Lebanon's Prime Minister Saad Hariri and Ministry of Foreign Affairs also denounced Trump's move on Jerusalem.
Hariri said on his Twitter account that Lebanon deplores and rejects the decision, and it is insolidarity with the Palestinian people.
"[Lebanon announces] their [Palestinian's] right to the creation of an independent state whose capital is Jerusalem," he added.
Lebanese President Michel Aoun also reacted to the decision with a written statement from the press office.
"The U.S. president's decision to recognize Jerusalem as the capital of Israel threatens the peace process and the stability in the region. The Arab countries must be in unity against it."
Egypt's Ministry of Foreign Affairs also deplored the Jerusalem decision of the U.S. with a written statement.
"Egypt condemns the U.S.' decision to recognize Jerusalem as the capital of Israel and to move its ambassador to Jerusalem. Such unilateral steps contrary to international agreements will not change the legal status of Jerusalem as it is under occupation."
Earlier Wednesday, Trump announced his decision despite widespread international opposition to formally recognize Jerusalem as Israel's capital.
Jerusalem remains at the core of the Israel-Palestine conflict, with Palestinians hoping that East Jerusalem -- now occupied by Israel -- might eventually serve as the capital of a future Palestinian state.
During his election campaign last year, Trump repeatedly promised to relocate the U.S. embassy from Tel Aviv to Jerusalem.