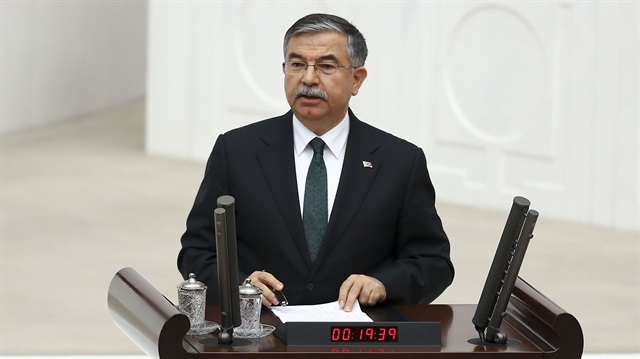 Turkey Defence Minister İsmet Yılmaz said Russia is using the Kurdish Democratic Union Party (PYD) and its armed wing, People's Protection Unit (YPG), as a tool in Syria's long-running conflict.
"PYD and YPG see this conflict as an opportunity. They captured Menagh military airbase in coordinated strikes with Russia, for whom a proxy war has been conducted, particularly in the region where Syrian Arabs and Turkmens live," Yılmaz said during his address to Parliament on Tuesday. "PYD and YPG has been used as a cat's paw by Russia."
Yılmaz said that Russian war planes have carried out as many as 7,200 air strikes since late september 2015. "88 percent of Russian strikes have targetted opposition groups and busy civilian settlements."
The minister emphasized that Russian air strikes, supposedly targetting the Daesh positions, remained fruitless."Russia, who are currently involved in Syria's conflict with its 5,000 troops, has further escalated the civil war."
"I want to point out that these attacks are crimes committed against humanity," he added.
Yılmaz said that assaults backed by Russia have increased the stream of refugees to the Turkish border, as the town of Azaz is just on Turkey's southern fringe.
"Turkey does not want to be a part of any war. However, we will never hesitate to take a retaliatory step to protect this nation's rights and laws," he noted. "Besides, Turkey is determined to continue its fight against terrorist groups. We will fulfill our responsibility fully in counterterrorism."
The minister reiterated that the Turkish artillery acted in lines with international rules of engagement. "We do not have any hostile stance against Kurds."
"It was Turkey who opened its borders to 500,000 Iraqi Kurdish citizens when a chemical gas attack hit Halabja," he said in a reference to a gas attack on the Kurdish city in northern Iraq in 1988 which left thousands dead and dozens injured.
"It was us who were hosting our Kurdish brothers and sisters when the Syrian town of Kobani was besieged," he said, reminding Turkey's efforts to shelter Kurds who fled from Kobani.
In 2014, around 200,000 residents fled into Turkey due to Daesh attacks on the Syrian border town of Kobani. UN High Commissioner for Refugees spokesman warned that an estimated 500,000 people from Kobani and its towns could flee to Turkey because of the Daesh siege on the town, which was home to 400,000 Syrian Kurds.
#
Defence Minister İsmet Yılmaz
8 yıl önce